I thought I'd take a moment to tell you about the
Share your Heart for Haiti Campaign
by
Picture a Healthier World (PAHW)
. This is an organisation that brings together photography enthusiasts and makes their photos available for sale in a bid to raise awareness and money for good causes.
The photograph I contributed is of a page from my
failed Sketchbook Project.
As photographs go, it is not technically great, but I do like thing itself: a page of
tiny hearts
created from trash such as envelopes, sweet wrappers, flyers and receipts, on a gold background.

In fact I like it so much I have used it as the background for one of my buttons (available in the right-hand sidebar) as well as for a forthcoming guest post on
PaintingBliss
about the re-use of waste items in craft projects.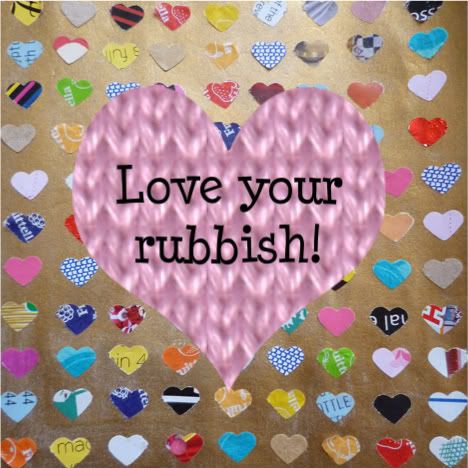 So it has a lot of personal significance for me. These hearts stand for a lot of things I love: recycling, collage, colour...One of the organisers came across the image on
Flickr
and invited me to submit it to their project.
The idea is that On March 22 -
World Water Day
- PAHW will introduce a collage featuring all the submitted heart photos, and 100% of net proceeds from these items will support UNICEF's Haiti 365 project.
The project operates in Haiti to expand water resources to remote communities, supply chlorine tablets to protect families from cholera, and provide latrines to reduce the spread of disease. Over two years after the earthquake on January 12, 2010, poor sanitation and unclean water continues to needlessly claim the lives of the earthquake's victims.
If you have any
heart photos
- or ideas for them - you might consider
donating one
to the collage.
Alternatively you might consider
voting for my photo by "liking" it
in the
Share your Heart for Haiti Campaign Facebook album
. The photo with the most votes will win a $50 Amazon gift card and the PAHW print of his/her choice! Obviously I'd be incredibly grateful for your votes - although I admit there are a lot of pretty photos in the album!
You can vote until midnight on 29th February 2012.