It's time I wrote a post about a daily passion of mine:
tea
. I was recently lucky enough to be given
The Complete Tea Collection
by
The Lawn
(I have an amazing brother & sister-in-law). I love the taste of tea, but I also love
the whole business of making and drinking it
: strainers and pots, cups and saucers, boxes and caddies.
So I was delighted when a group of friends decided to organise a proper tea party to say farewell to one of our number, who is moving abroad. My mind immediately started planning the perfect bunting and figuring out how to combine elegant cups with child safety (we all have toddlers)! I also had the idea to make tea-themed necklaces for us all to commemorate the occasion.
I am inspired by the 'Time for Tea Jewellery' in
Everything Alice
, a lovely Alice-themed craft book I've mentioned before (
here
). They use dollhouse tea sets but I couldn't find those cheaply enough online, so I ordered some sweet little porcelain teapot charms, found on Etsy:
And also found some silver-coloured charms (from
this eBay shop
, which I recommend as my parcel included some extra little fish charms as a thank-you gift!) I love the teeny tiny forks and spoons: so cute! Aren't miniature things always so appealing?
Now I just need to get some chains and jewellery-making supplies - I can feel a new craft obsession coming on! In the meantime I made this one-off badge for my
Etsy shop
: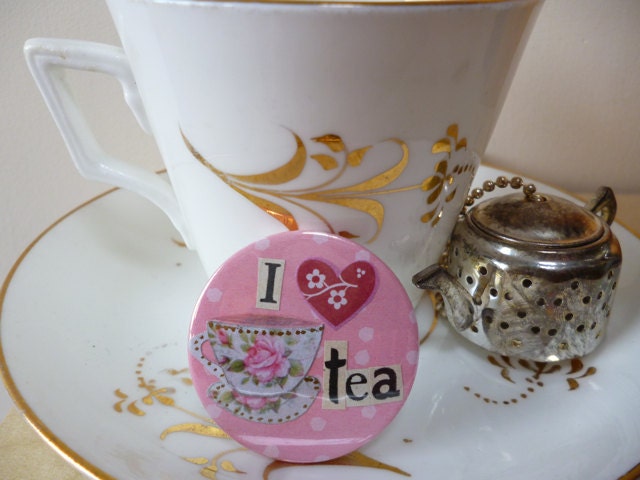 I've been meaning to make a whole series of badges celebrating things I love and various crafts, so I'll hopefully be updating about that soon, as well as the progress with tea necklaces and bunting!
Right, I think I'll go and put the kettle on now.