This week, I will be making an Easter
yarn wreath
and a cute felt bunny rabbit to go with it (these are both things on my
34 things list
). I still need to design my little bunny, however, so naturally I turned to the internet for some inspiration...
This cute little felt creature is a rather larger rabbit than I'm planning, being designed as a toddler toy for creative play. I love
GardenBirdie's Etsy shop
- full of simple, pretty toys in natural materials, inspired by the
Waldorf educational method
. I love the fact that this bunny can stand on his own.
What I love about this one, from online handmade shop
Buttons Boutique
, is the use of pretty fabric for the bunny's ears. The heart stitched on bunny's bottom is pretty cute too.
Dick Bruna's Miffy is a well-loved illustration classic. I love the simplicity of a little cross for the nose and mouth, as well as the sweet wide-spaced eyes.
I'm also a fan of
Aranzi Aronzo
and have a couple of their books, including this one. I love the little rabbit and bear who guide the reader through the sweet little sewing projects. I especially like the little pink cheek circles on this appealing bunny. My rabbit is also going to be pink & white to go with the pink, green and white wreath.
This super-sweet leaping rabbit comes with her own
tutorial
, courtesy of
Craft Interrupted
(a blog I'm rather pleased to have stumbled across in my bunny hop!) There is even a template, which would certainly make things easier for me, but I think I'm going to make a sitting-up and facing-forward rabbit this time...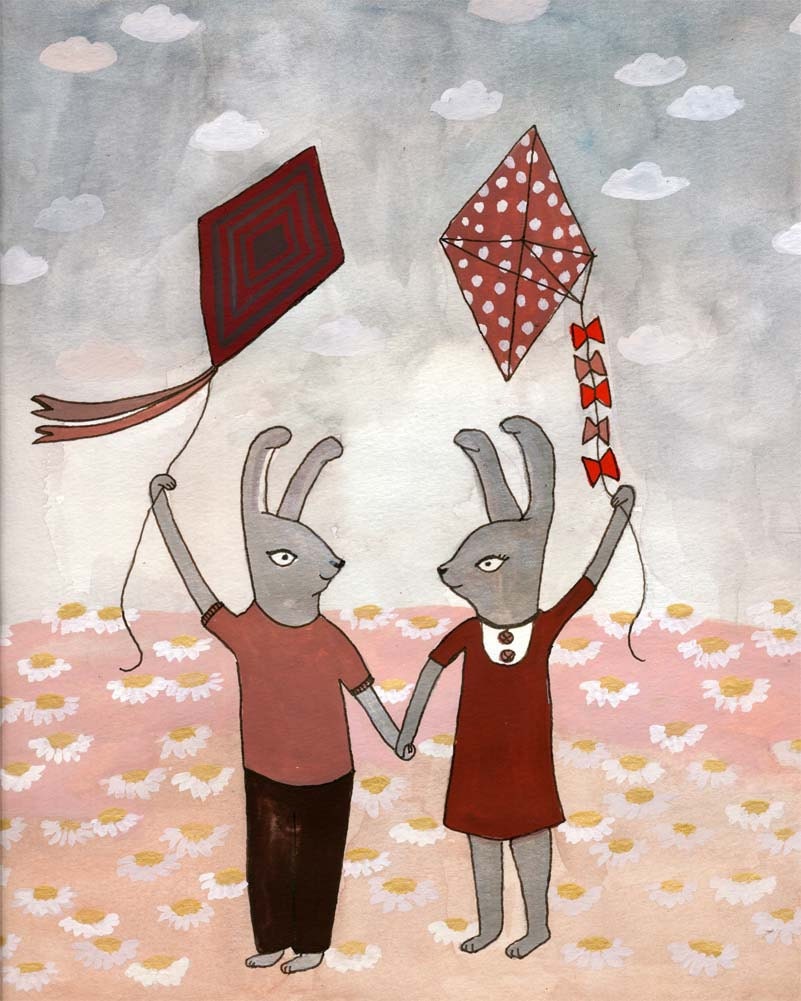 © Andrea Courchene
Finally, I wanted to share something slightly different: this delightful original painting by Andrea of
Paper Sparrow
, which I was lucky enough to buy during her amazing sale to celebrate her
shop's
4th birthday recently. I just love the colours, the kites and the atmosphere. I have the original, but you can still buy a print
here
- it would make a great Easter gift.
I'm looking forward to showing you my bunny (and the wreath) later in the week. Are you making anything for Easter?