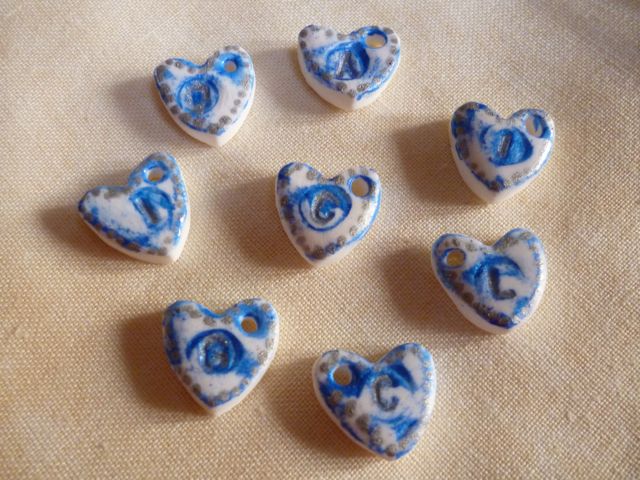 I was really looking forward to sharing this idea. It never occurred to me it might not go to plan! Inspired by a gift tag tutorial by Kirstie Allsop (seen on TV before Christmas - couldn't find it on the web) I wanted to make tiny letter-printed charms from Fimo clay, in blue and white like fragments of china.
They were intended for some charm necklaces I'm making but unfortunately they turned out to be rather too fragile to cope with the attachment of a jump ring! I'm new to jewellery making - this was my very first try - so it might be my technique with the pliers. It was more fiddly than I expected! But I'm wondering if perhaps these tiny charms are simply too delicate for the type of necklace I had in mind... If you'd still like to try making them (perhaps larger, sturdier versions?) you'll need...
Plus I used a heart punch designed for creating icing hearts for cake decorating (not pictured above). I just rolled out the Fimo like icing (frosting) and punched out the tiny hearts. I used metal letter stamps to imprint my friends' initials, before baking them for 30 mintues.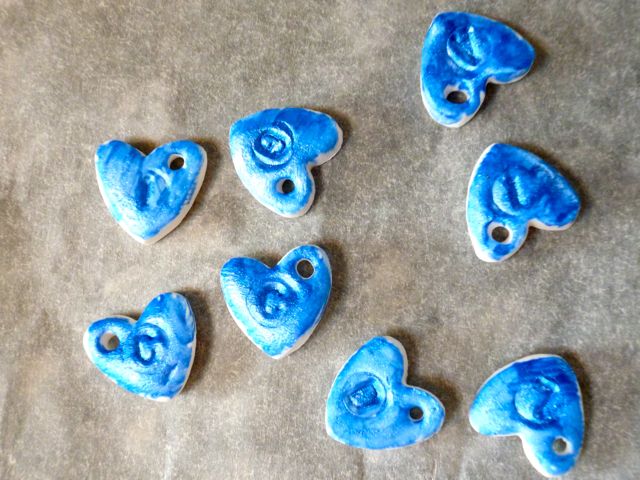 Once cool I coated them with a layer of metallic blue paint. When it was dry, I distressed the blue using a cheap nail file, then painted on little dots of silver around the edge. Finally I coated them with Fimo varnish.
I think they are pretty, but I'm not quite sure what to do with them now!