I shared some thoughts about
my dad's approach to food
back in January, after our most recent trip to visit him in Texas. Lately I've been craving his make of simple yet luxurious granola in the mornings.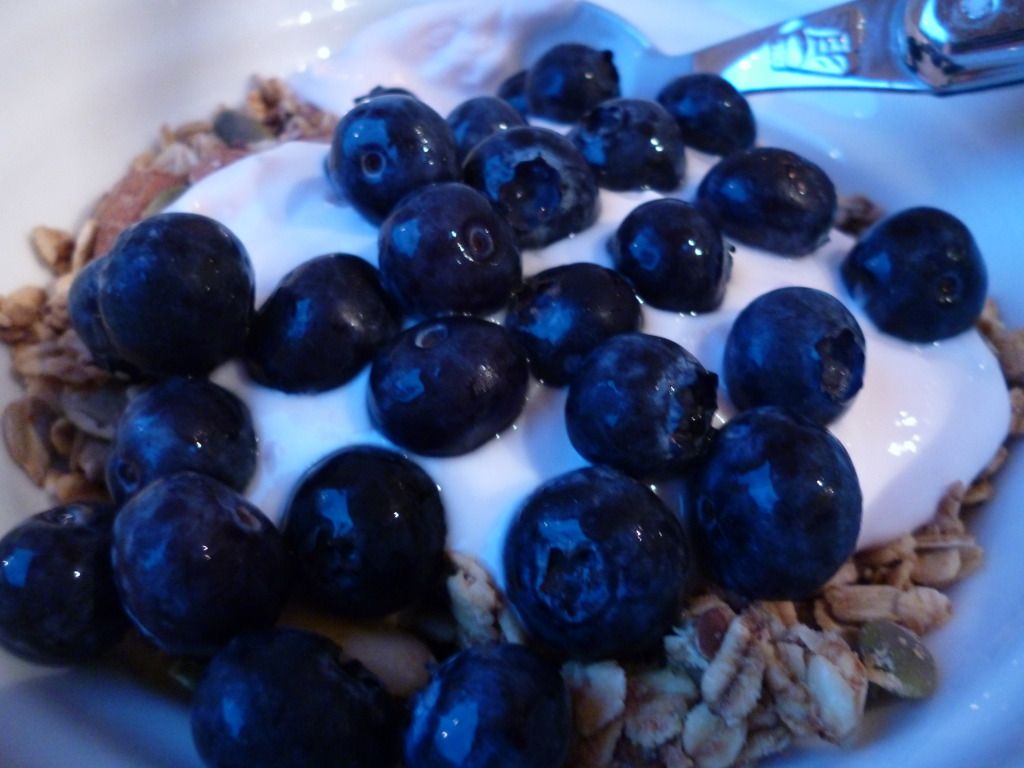 (With apologies for the photos in this post: it's dark when I eat breakfast in the mornings, and dark when I do my cooking at night!) Of course my dad and his wife make their own granola. They experimented with different methods before fixing on this one - and they've been eating it every morning for over a decade!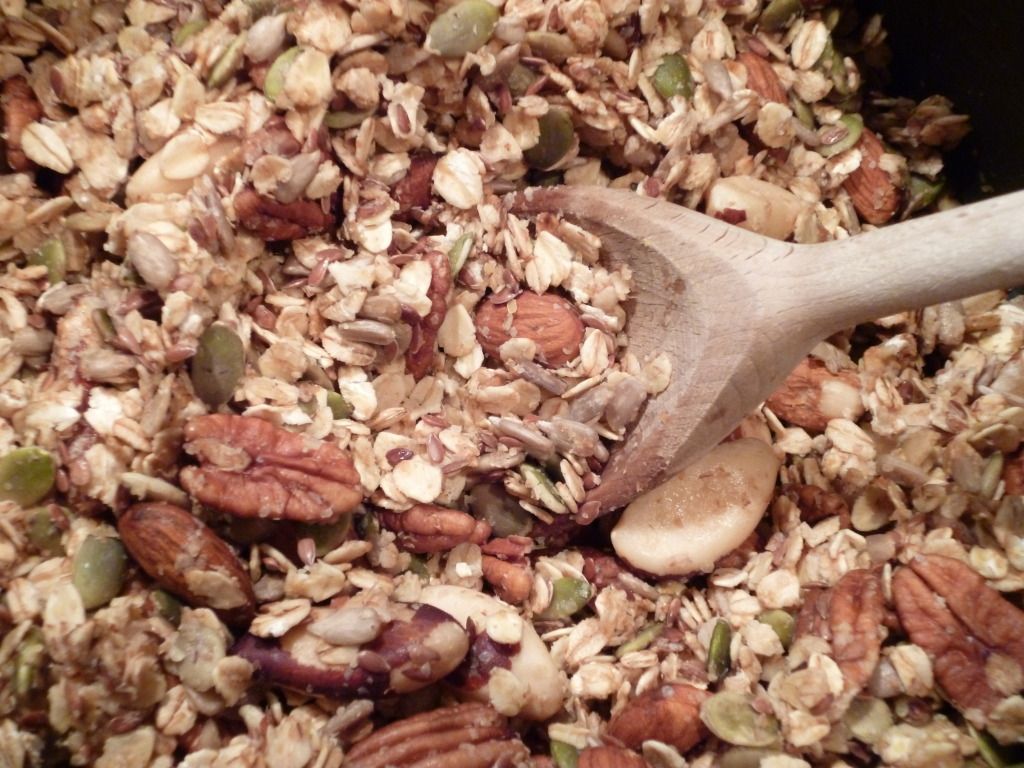 The basic idea is that it has lots of nuts - whole not chopped - and is not sweet or oily. The flavour comes from roasting it all very slowly, and a drop of apple juice. It may sound austere but I promise you it is addictive (and you feel great all day!)
Make a big batch (recipe below) and eat daily with yoghurt or milk and fresh fruit. Blueberries and banana with strawberry yoghurt is my current favourite mix (even though I'm sure my dad wouldn't go for the strawberry yoghurt, haha!)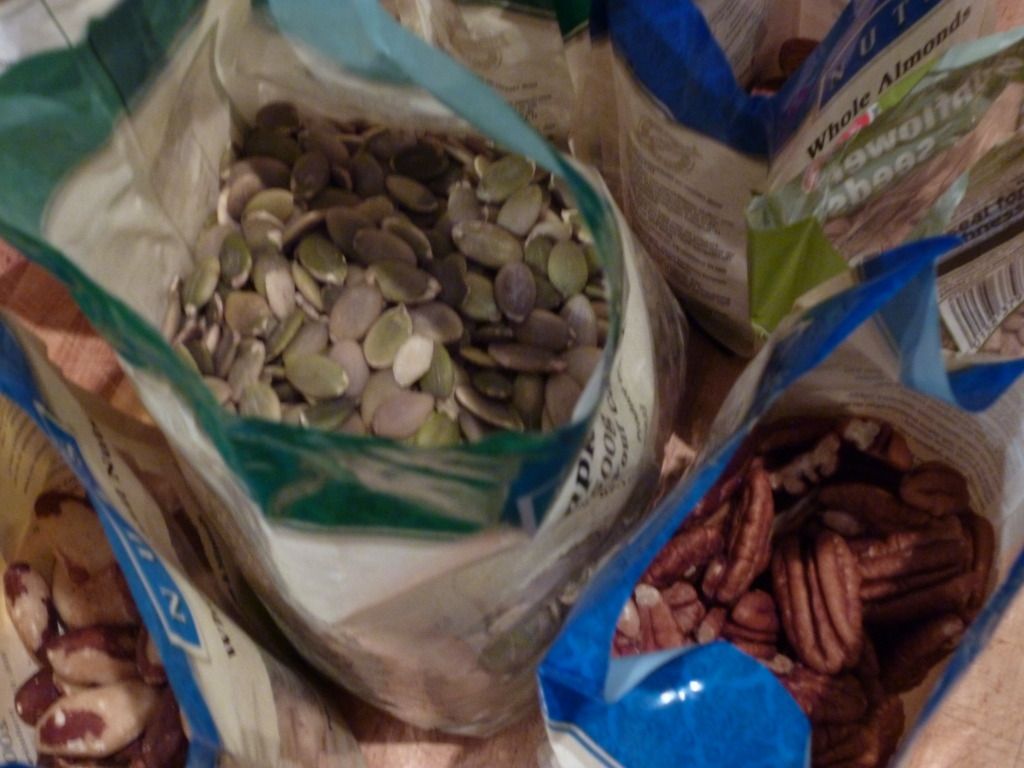 Simple food is simple to make! I won't give quantities in the recipe below, since I do everything by eye. Basically I think it works best when you're quite heavy on the whole nuts - but they're also the most expensive element, so whatever works for you. Add in any extra seeds or nuts you like. Try it first without dried fruit though, before adding any.
Ingredients
Jumbo rolled oats (I think my dad actually rolls them himself?!? I buy a big packet.)
Sunflower seeds
Sesame seeds
Pumpkin seeds
Linseed
Brazil nuts
Pecan nuts
Unblanched almonds
Wheatgerm (my addition because it has lots of folic acid - good for pregnant women)
Groundnut oil (or other flavourless oil)
Apple juice (preferably locally sourced & organic)
How to
Preheat oven to a very low setting (Gas mark 2/300F/140C - lower if you have a fan oven).
Warm a small amount (I used about 1 tbsp for a 750g/1.6lb batch of granola) of oil in a large baking dish over the hob. Remove from heat and add all the dry ingredients in the desired proportions. Pour over a small glass of apple juice and mix everything together.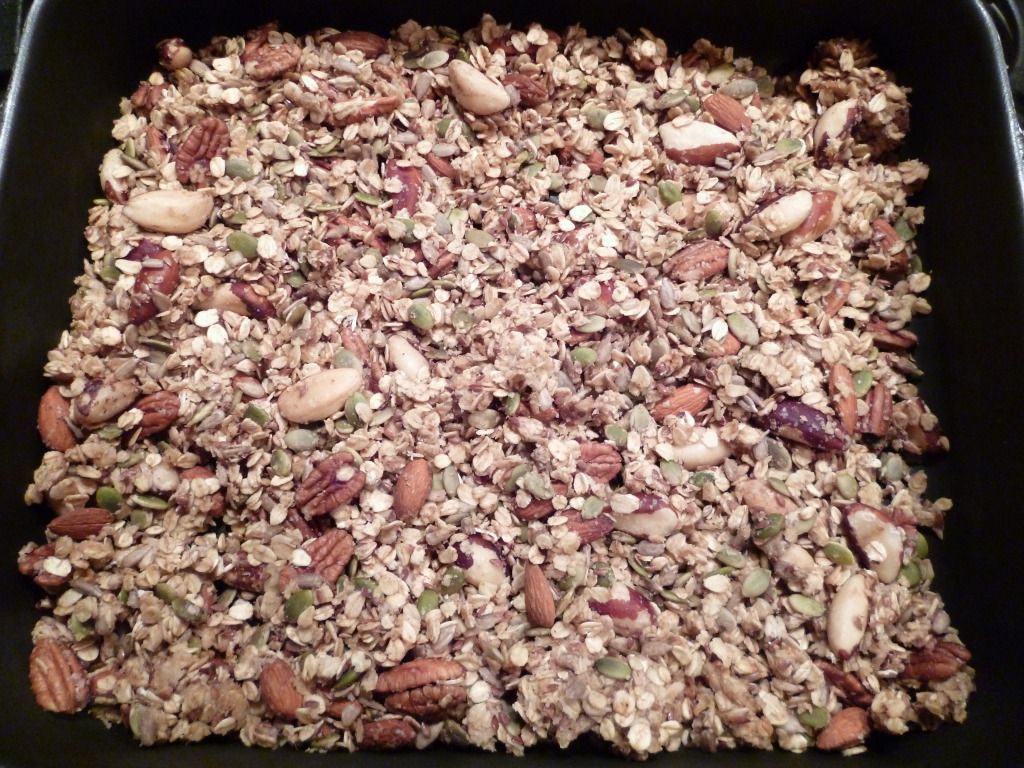 Spread evenly over the roasting dish and put in the oven for 2hrs or until crunchy and golden, turning occasionally. If you can, leave in the oven as it cools and leave over night to dry out fully.
Right, now I'm off to have my breakfast! Have a lovely Sunday everyone.