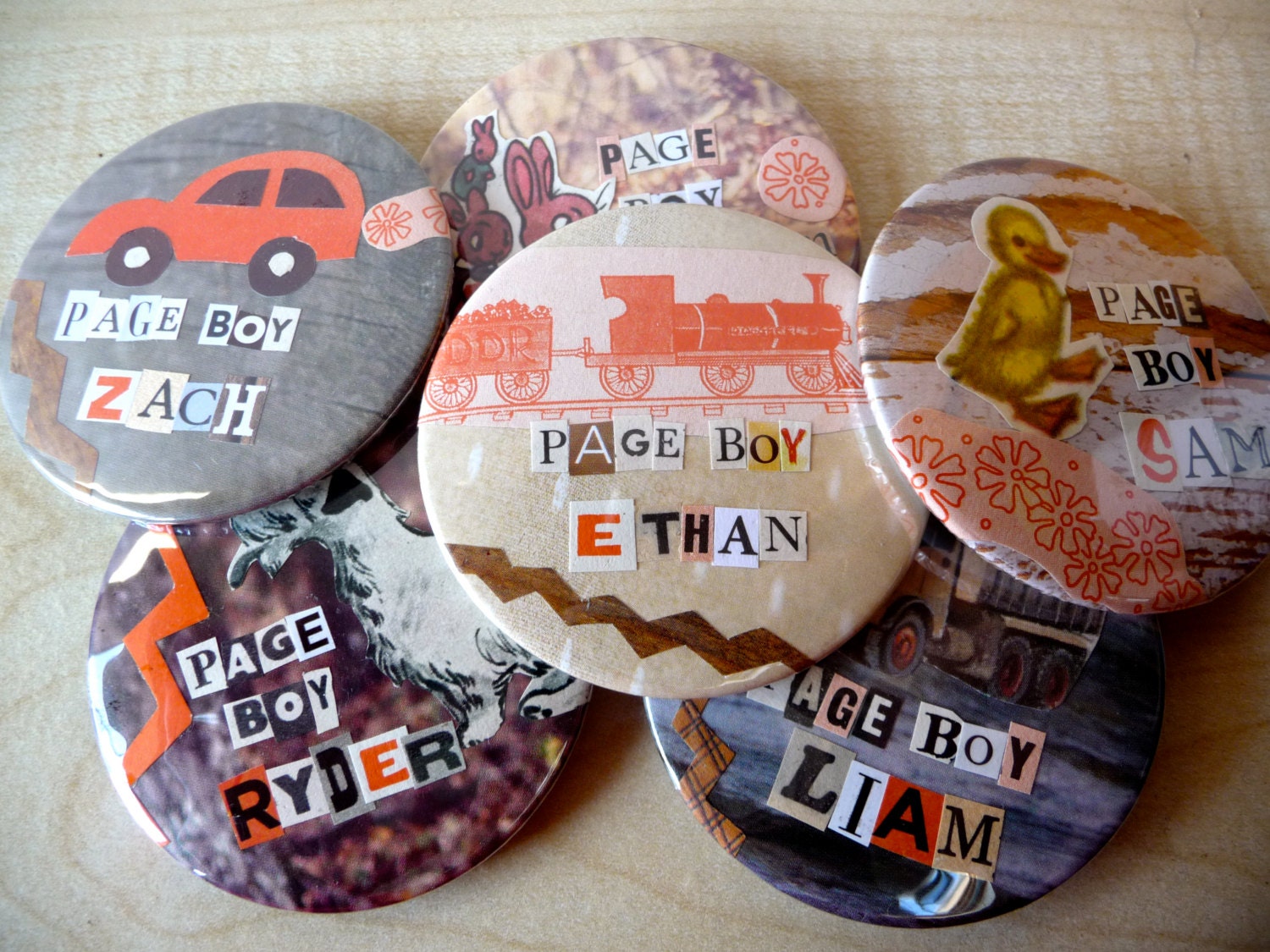 Did you know I make
pinback badges
? I love using vintage fabric and old picturebooks, but best of all I like to make unique mini-collages, then seal them all up in a badge and wear them - or see others wear them. These page boy badges were a recent
Etsy
commission that the customer has very kindly allowed me to share. I was so inspired by her wedding themes and plans!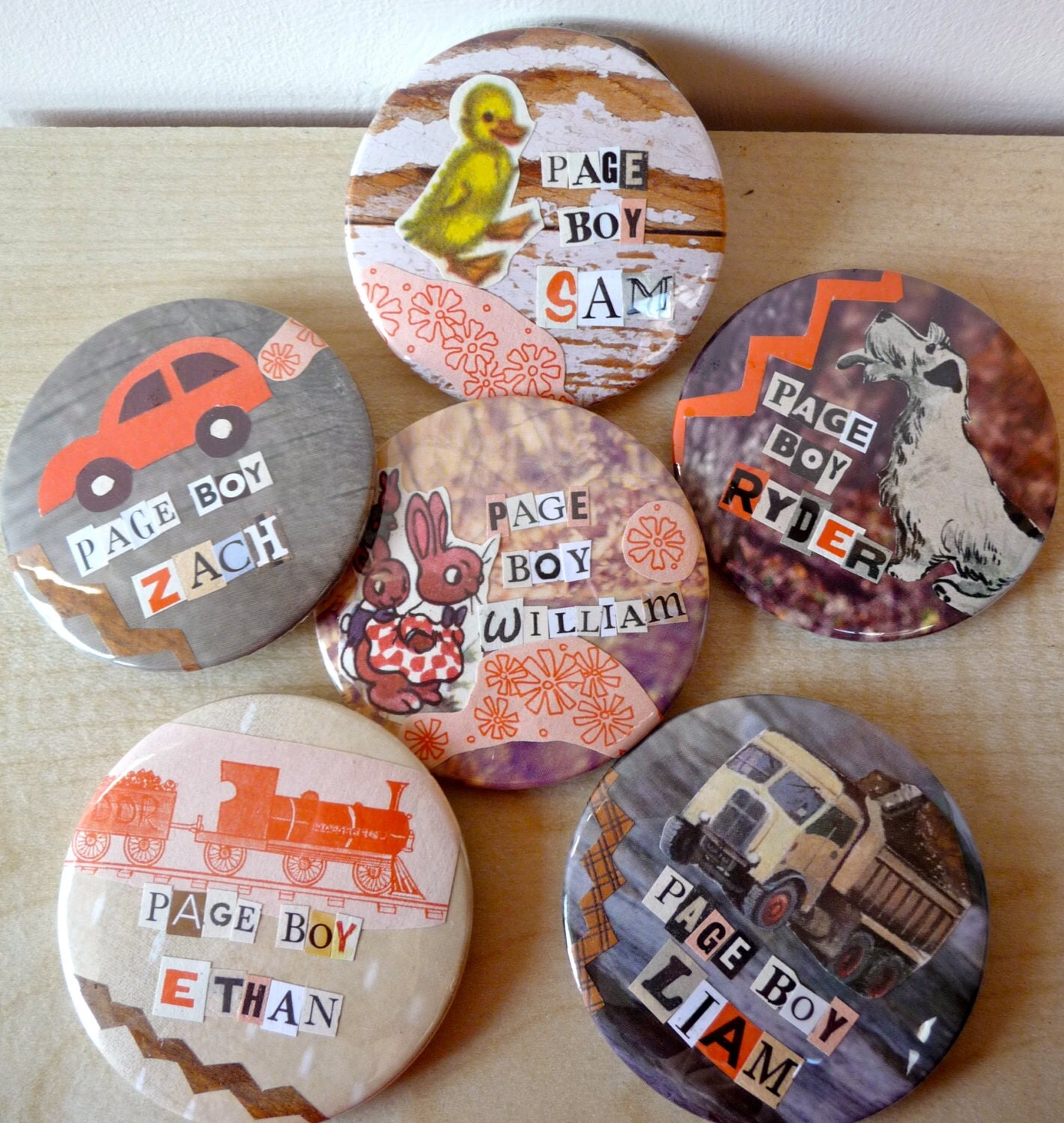 She is having a vintage-themed wedding and her page boys - who are all between 6 months and 4 years old (CUTE alert!!) - are wearing little brown, cream and orange bow ties, brown slacks and cream shirts. The main flower will be dried lavender. Doesn't that sound lovely?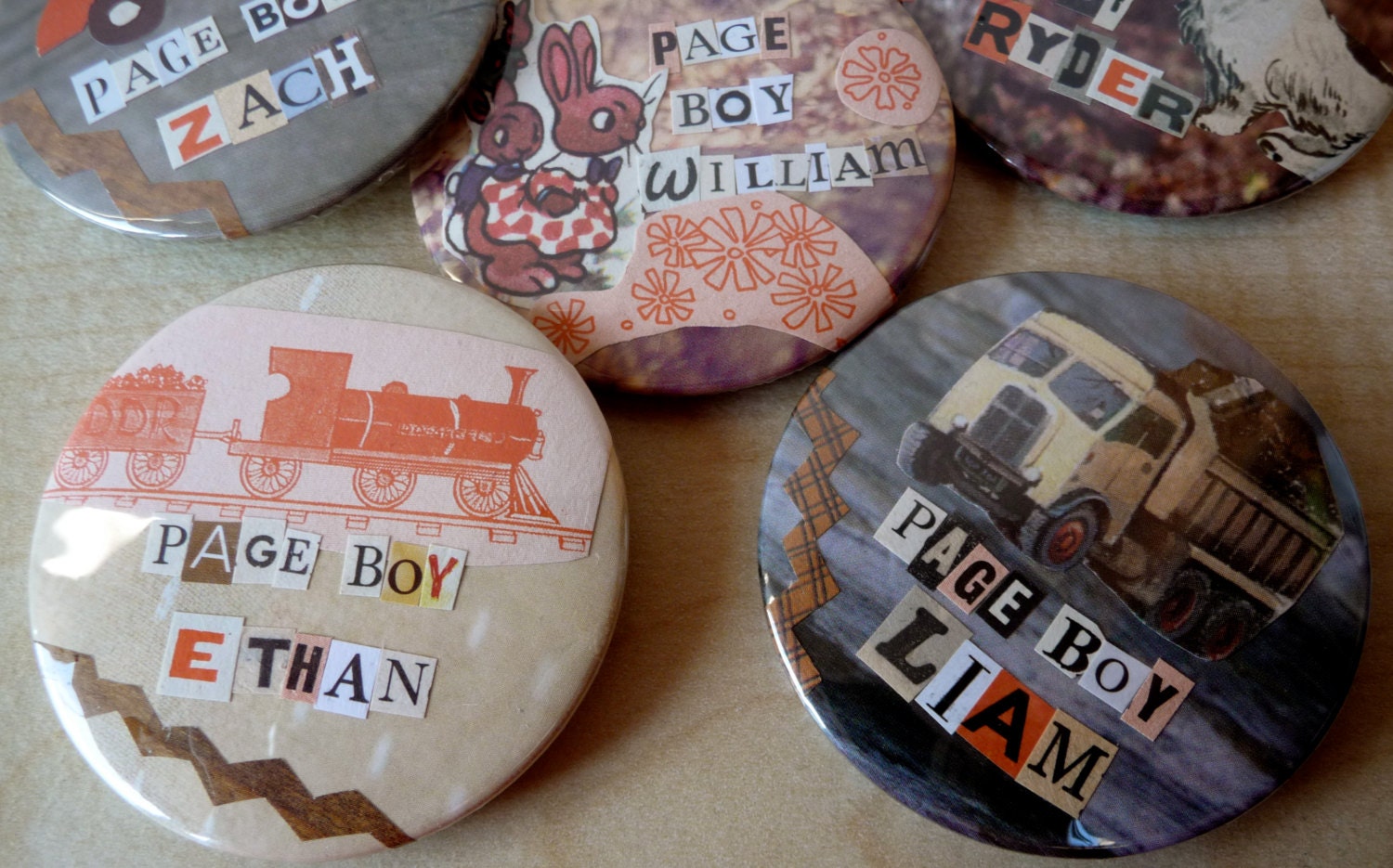 So I knew at once that I had to get out all my old vintage magazines, books and ephemera for this project, and decided on a colour scheme of brown, orange, cream and grey. I wanted to use natural textures like wood grain to set off the texture of vintage paper. And I became a little obsessed with finding the perfect image for each little man according to his age, so each would be happy (hopefully!) to wear his badge!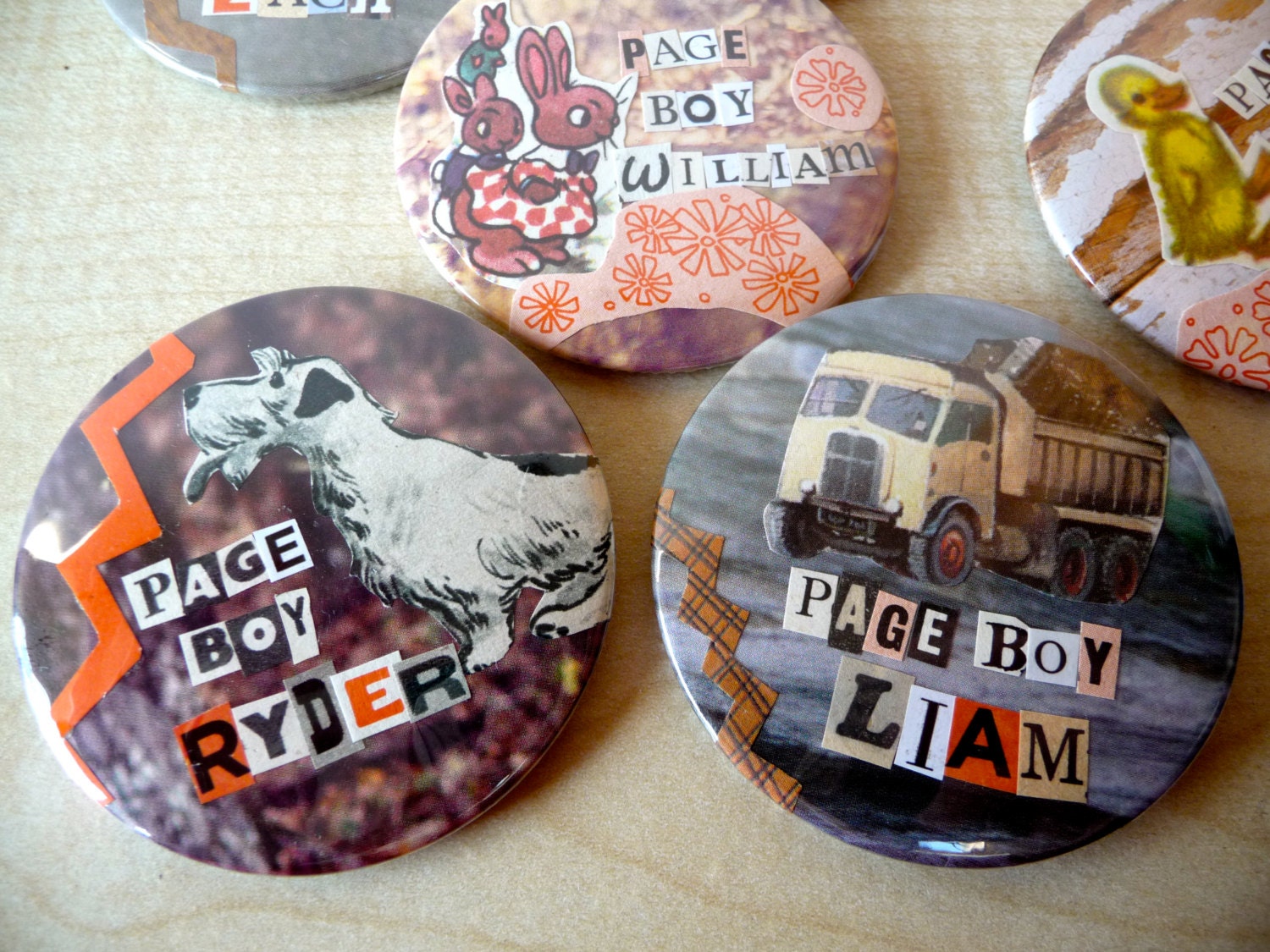 Having a little boy myself really helped me to come up with ideas - but it also made me a little bit perfectionist and it took a while to find the perfect materials/images for these badges. Thankfully this was one super-organised bride-to-be and the wedding, although in Australia, is not until May.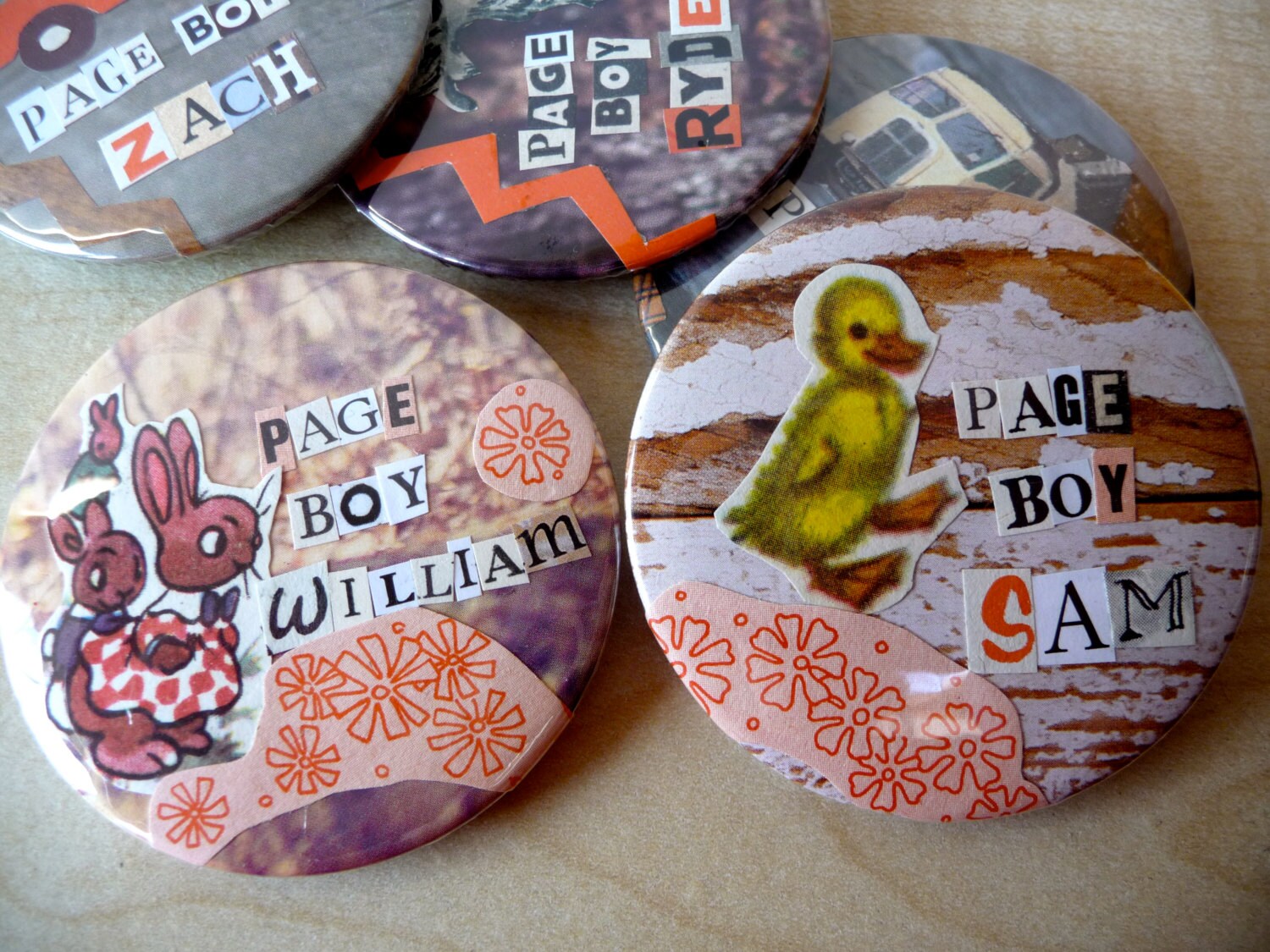 I'm delighted with the fantastic reaction these got when they reached the customer, who has promised to send photos of the page boys wearing them. I don't know if she'll get around to it - if she does, she's not just super-organised but super thoughtful and lovely! - but I would dearly love to see them all dressed up in their outfits and wearing these. I know a lot of people who make things say they especially love custom orders, and I'm no exception: I think it galvanises creativity to make something specially for a person/event. It can be challenging, but it's all worth it when they appreciate the results.