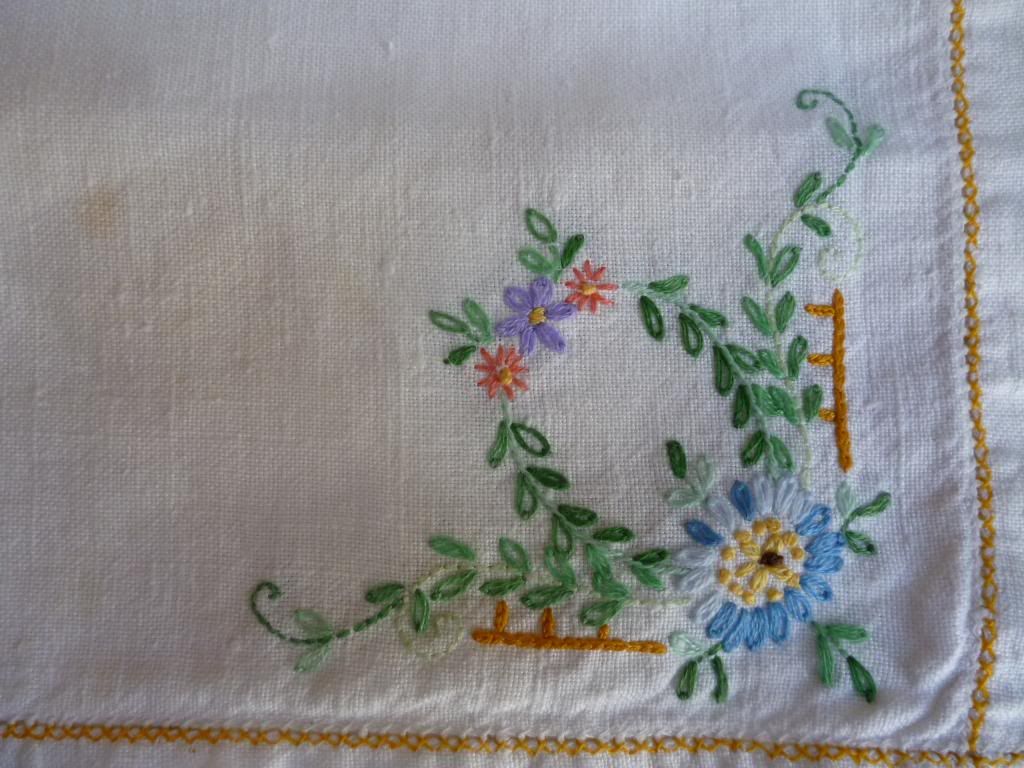 I love vintage embroidered linen. I started collecting it to make
heart-shaped lavender sachets
, and now I can't stop. My usual hunting ground is eBay. But I'm not very good at finding real bargains on eBay. The sellers all seem so savvy and price-aware. However at an otherwise disappointing attic sale this weekend I managed to find a couple of pretty pieces for the very reasonable price of £3.
What I love about pieces like this pretty handkerchief and tablecloth (below) is the skill and beauty of the hand embroidery. I can imagine some 1940s housewife (that's my guess at the era they date from) painstakingly stitching the motifs, revelling in the colours of the thread in a time when colour was hard to come by. My mum was born in 1941 and she remembers an age where everything was scarce, including colour: even cars and vans were often just grey. Paint was a luxury, as was fabric. Embroidery was the perfect way to bring pattern and colour to plain linen.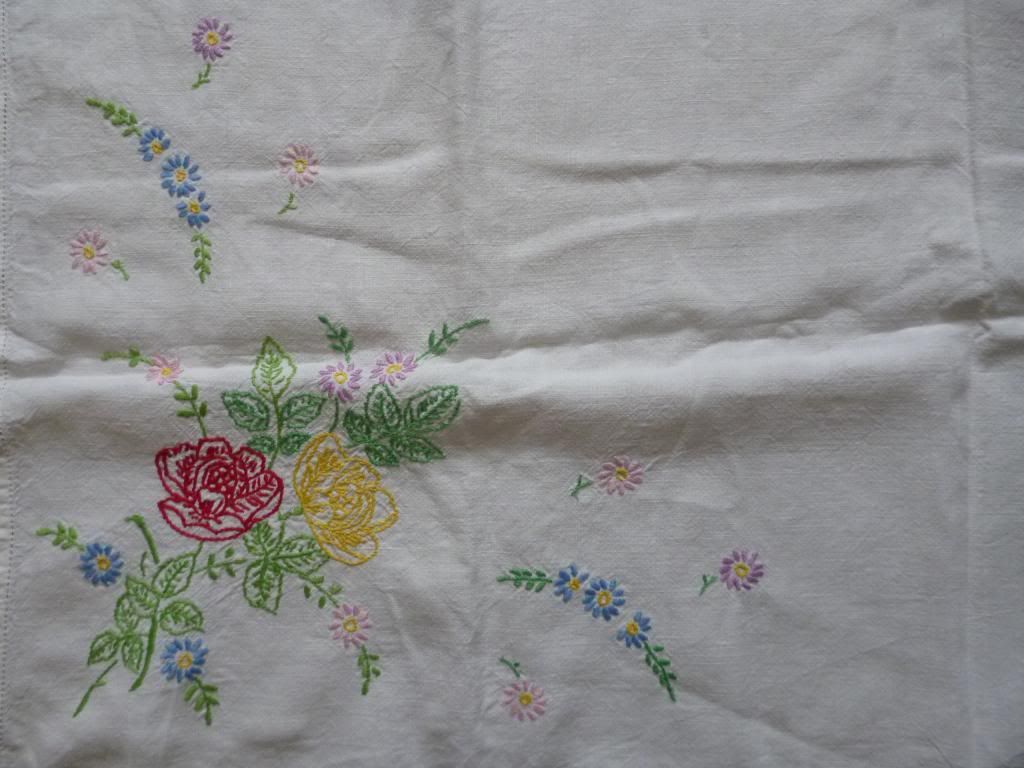 There's a part of me that feels bad about repurposing these lovely linens. But the simple truth is I know I'm not going to use a linen handkerchief or tablecloth. It would be far sadder to keep them folded away in a drawer. Instead I want to give them a new lease of life, and have them used and on display.
I have a great idea for the tablecloth. This Sunday I took my little boys to visit a dear friend of mine and while we were there she was working on her latest patchwork quilt. She is a queen of quilting, handstitching the most beautiful and vast hexagon flower quilts. She is so neat and tidy and patient, whereas I love projects I can finish in one evening! I noticed she was using rather a fine paper bag from Paris to keep her ongoing work in. But I'm sure she'd be even happier to use a large tote made from vintage embroidered linens. I'm planning it out in my head already - another project for my ever-growing list!
And just in case with my £3 bargain I'm giving the impression of being a properly thrifty type, I feel I ought to share a little sneak peek of a very expensive 1970s fabric haul from Etsy, destined to be transformed into curtains for my boys' room. Much as I love the idea of picking these up from some charity shop or car boot sale, it just doesn't seem to happen, and when I find the perfect pieces, I can't resist spending out on them from my favourite Dutch and German Etsy sellers... My love of vintage materials is strong - but I probably should work on my thrifty sourcing skills.