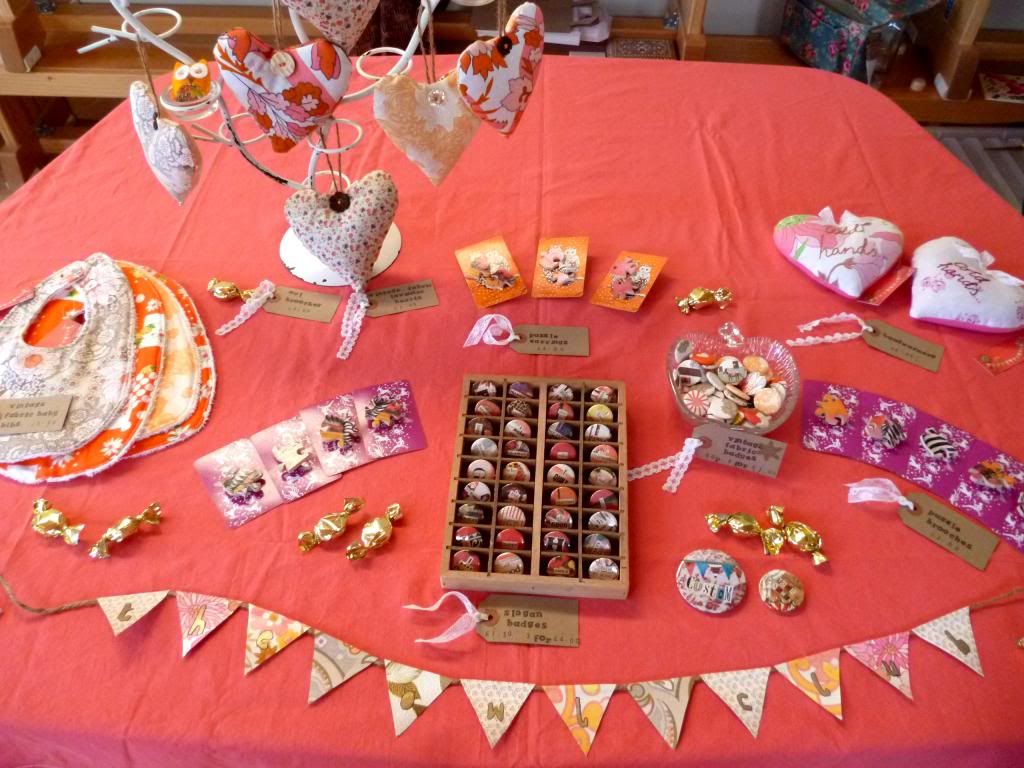 Last Wednesday night I participated in the
Cherry Hinton Festival
Craft Party, hosted by the lovely Claire of
Claireabellemakes
(I realise I quite often describe my blogging friends as 'lovely' - but only because they really, really are!) It was also my second time selling my wares in a mini craft fair.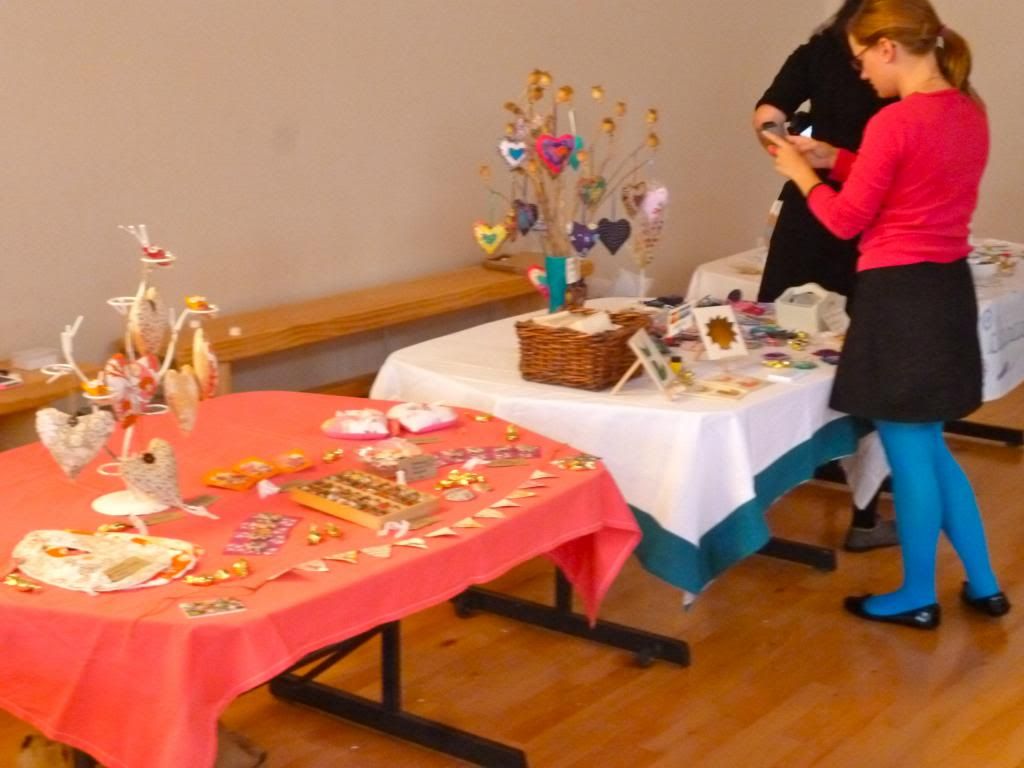 My offerings were made using vintage fabric and repurposed materials such as vintage wooden jigsaw puzzles and magazines. I was working with a warm Autumnal colour palette of pinks and oranges. I think maybe it wasn't your typical craft stand, with my eye-popping pink table cloth (my mum's, from 1964!) but I was happy with it.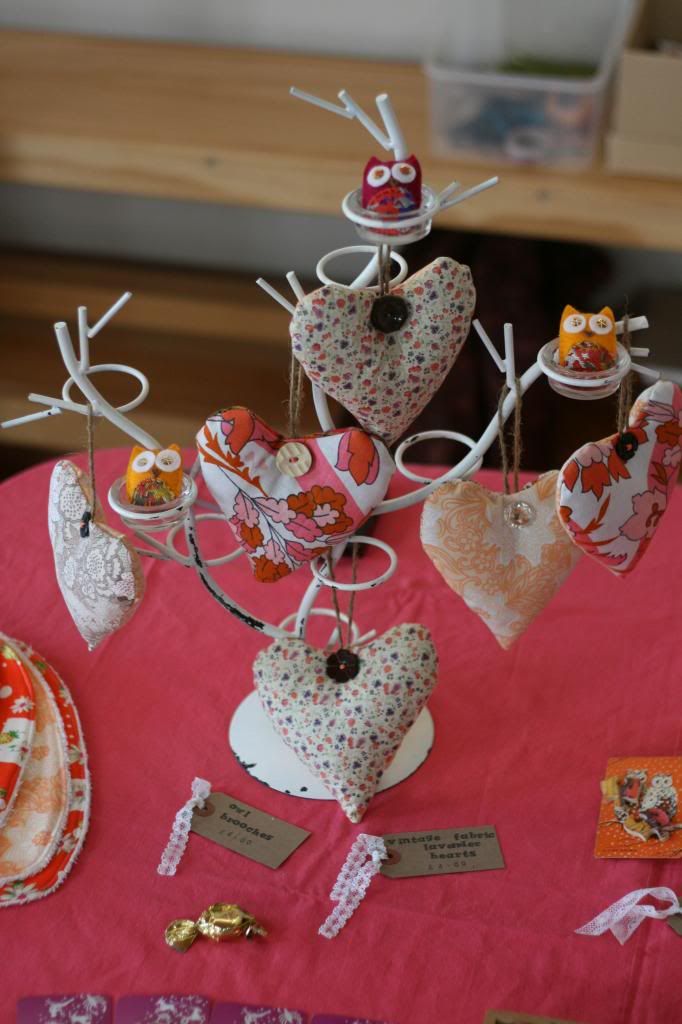 image by Claireabellemakes
I enjoyed browsing the other stalls too:
MissChaelaBoo
's stall was full of creative goodies including cute cards, beautiful felt brooches and mini-tags (it also had some great colour coordination going on!)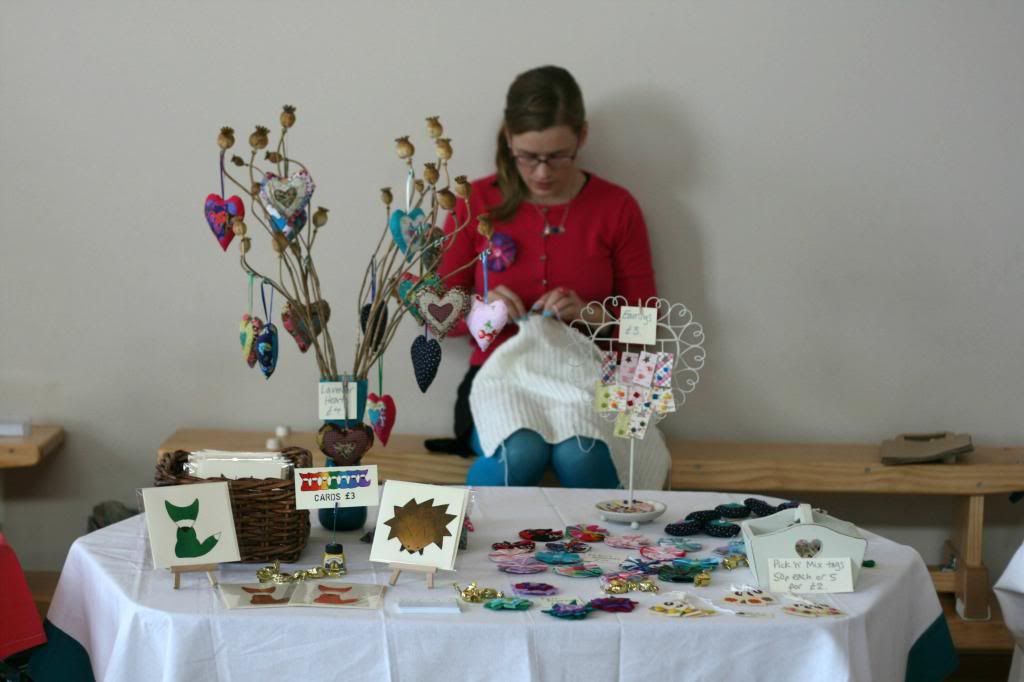 image by Claireabellemakes
I snapped up these pretty tags decorated with ribbon...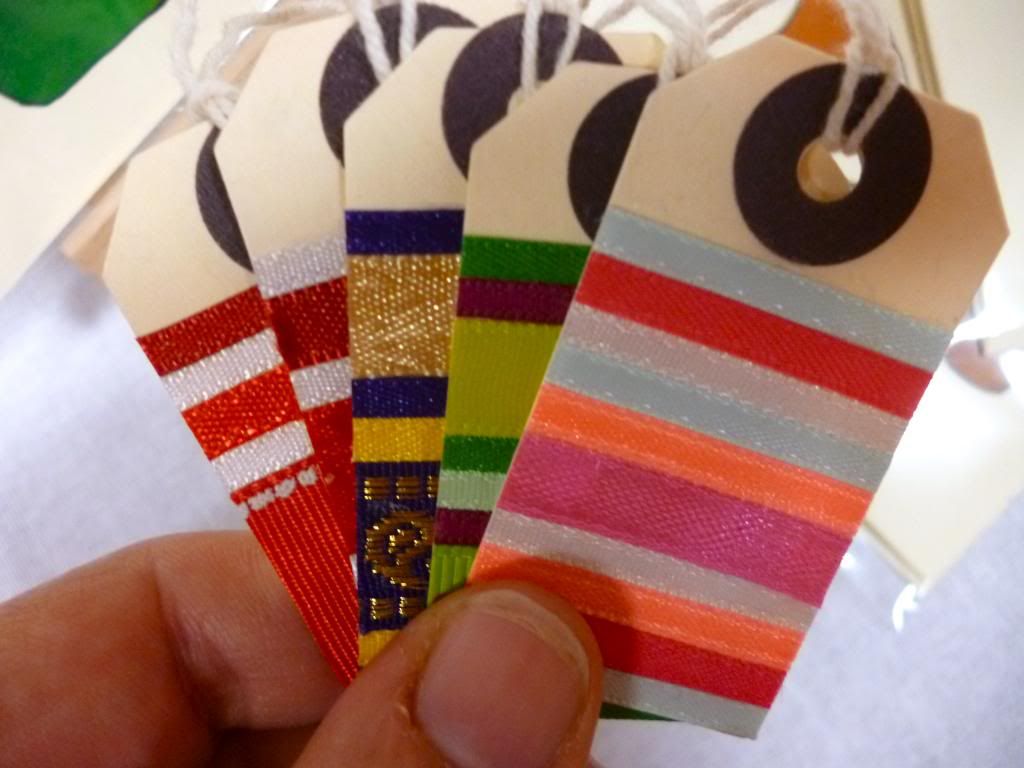 I also bought some amazing rocket gift tags from
Bluerana
's Sharon (for similar see
here
).
image by Claireabellemakes
Claire's stall had a selection of her pretty accessories including some desirable new sparkly heart brooches, soon to be featured in her
Etsy shop
. After dithering about the colour I finally bought one of her popular
macramé bicycle bracelets
the next day.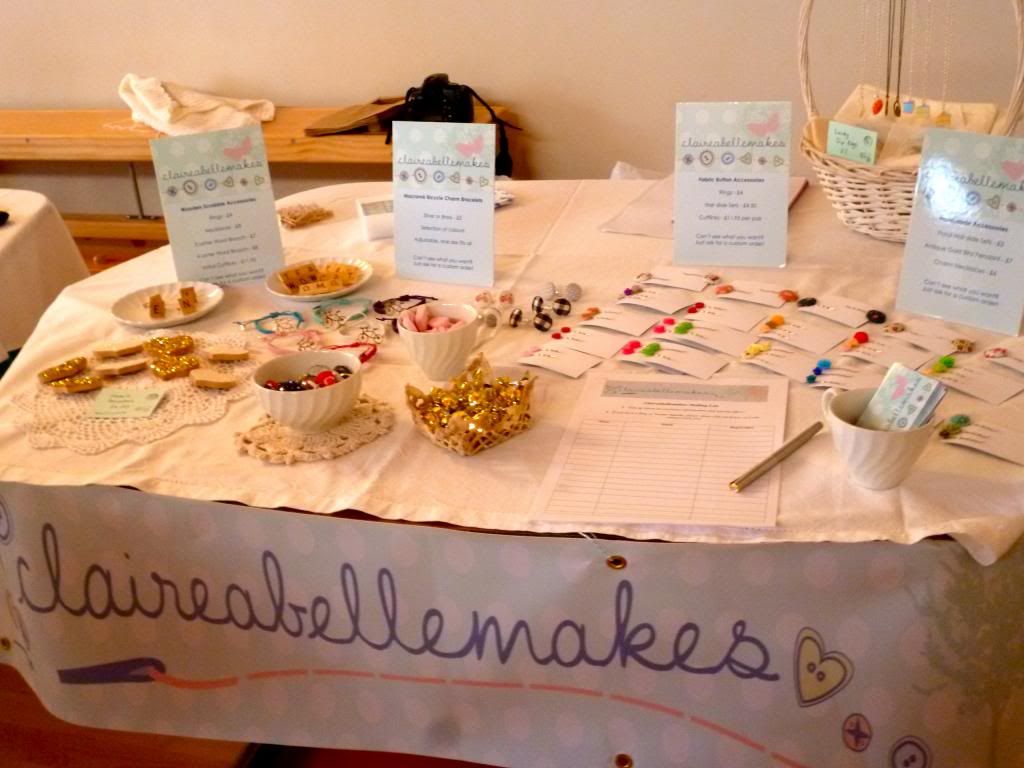 But the evening was a gathering of crafty folk to learn and create and practise, more than it was about selling things. This was helped by the selection of cakes (I wasn't the only person having cake for supper that night).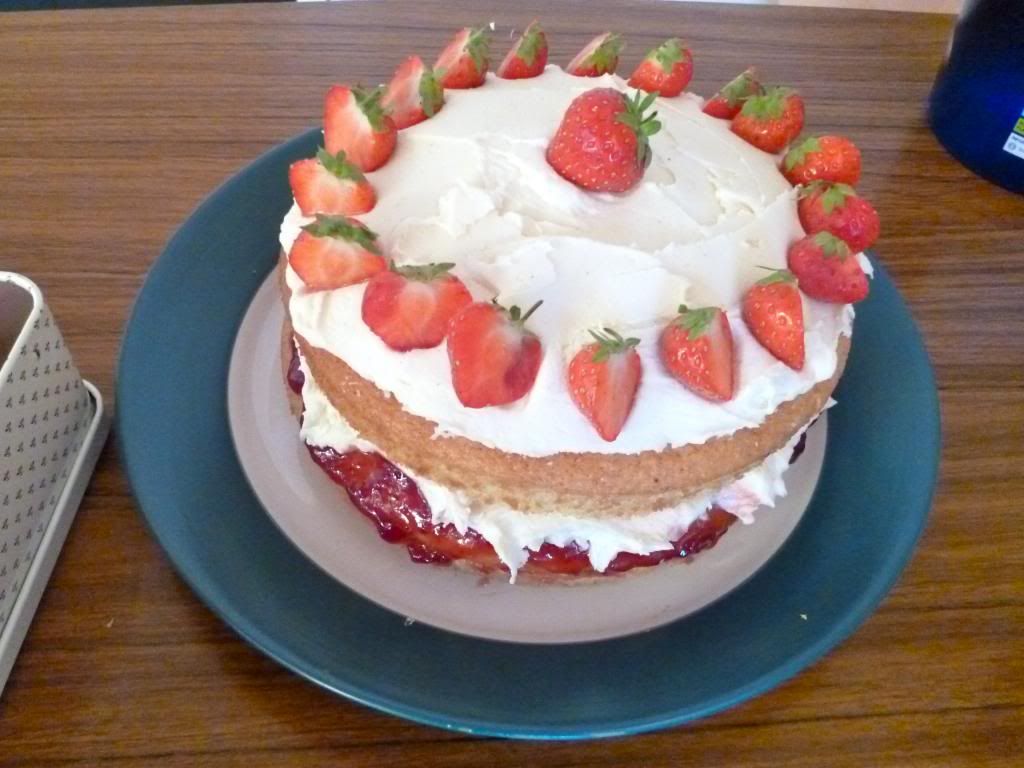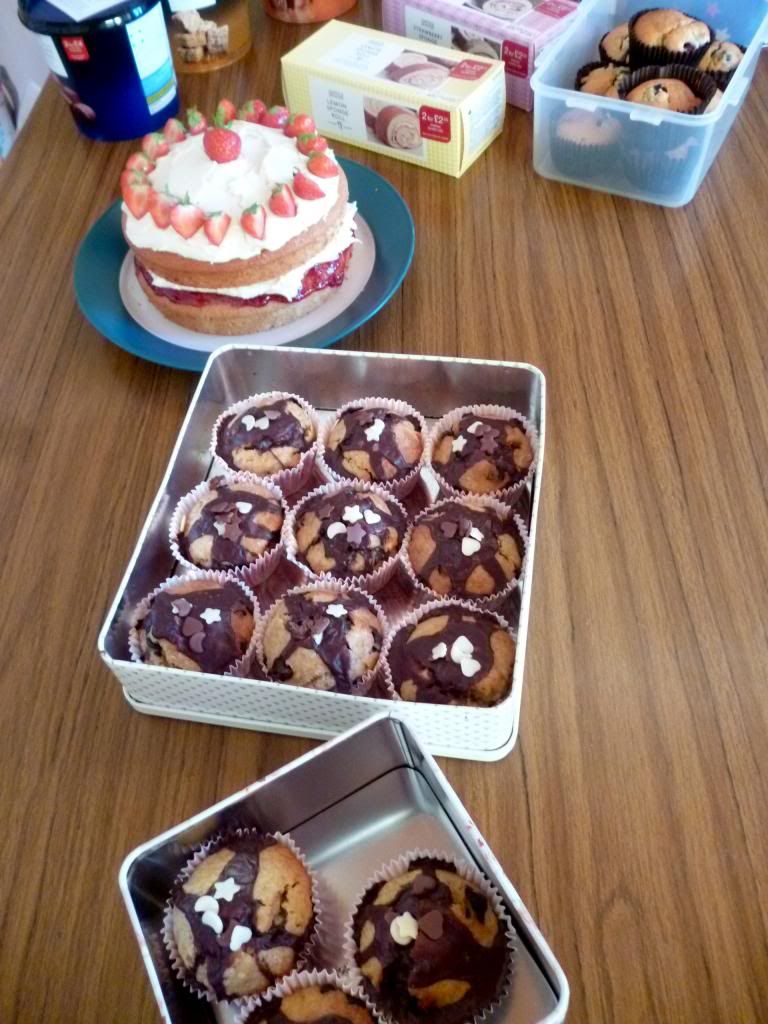 Michaela's vegan sponge cake was divinely moist - completely delicious whether or not you're vegan.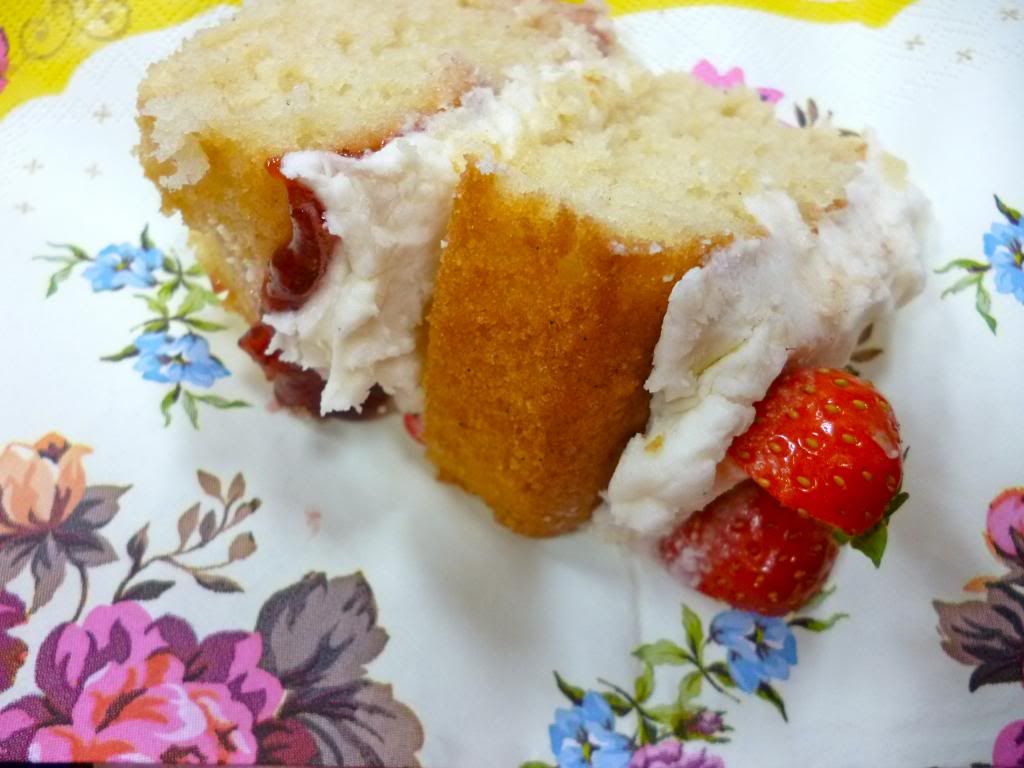 I had a lovely time learning to crochet for the very first time ever! Claire was on hand to teach us and we sat chatting and eating cake, a mix of super-advanced and uber-newbies.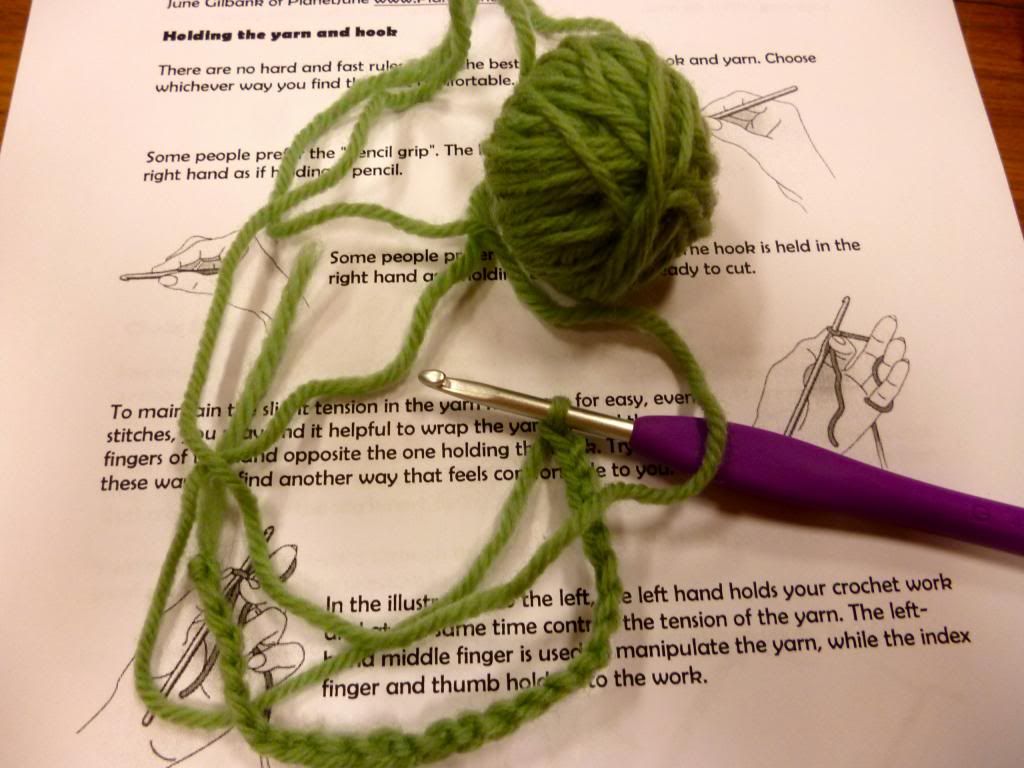 Typical me, I was very very slow but I did get the hand of it. While some beginners managed to finish the sweet crochet bow project we were supposed to be making, I merely managed a little mouse's scarf... It may end up in my son's dollshouse.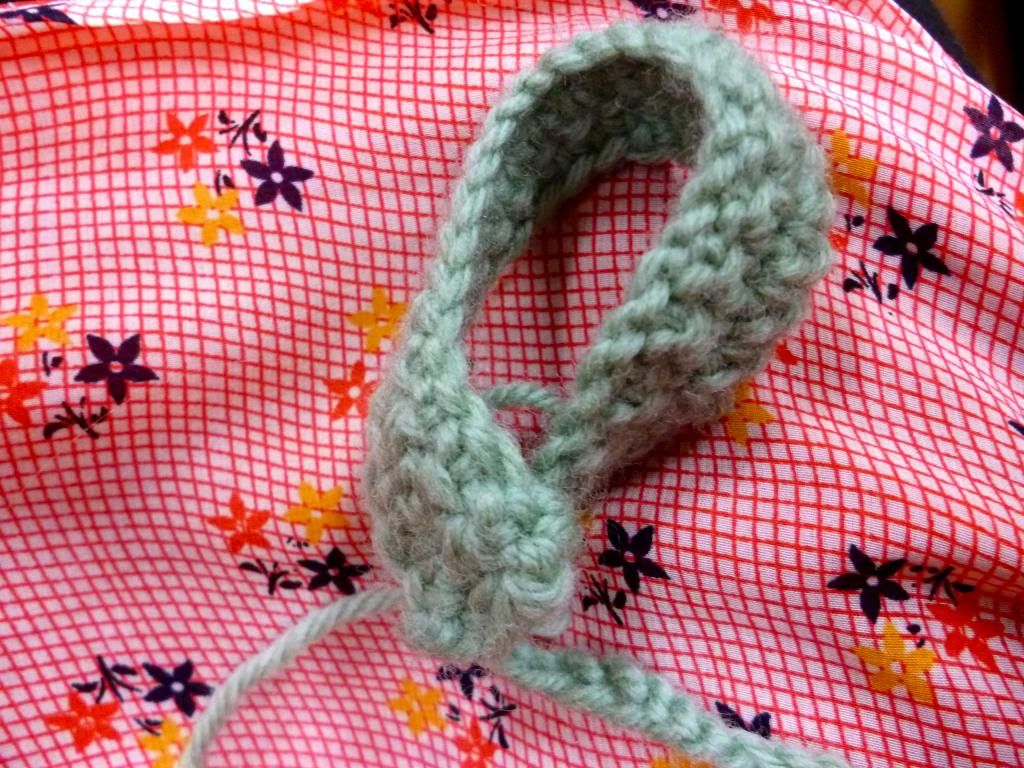 It was a lovely evening with a cosy huddle of like-minded crafties. It got me out of the house at bath/bedtime for the first time since the baby arrived (hubby did a brilliant job of getting both boys to sleep!) And perhaps most importantly it spurred on a frenzy of making, leaving me with lots of fun new stock for
my Etsy shop
. Like these vintage wooden
jigsaw puzzle brooches
, for example...
image by Claireabellemakes
See Claire's post about the evening
here
, and Michaela's
here
. They've got some great pictures and cover things I've missed out. Thanks ladies, I had fun!