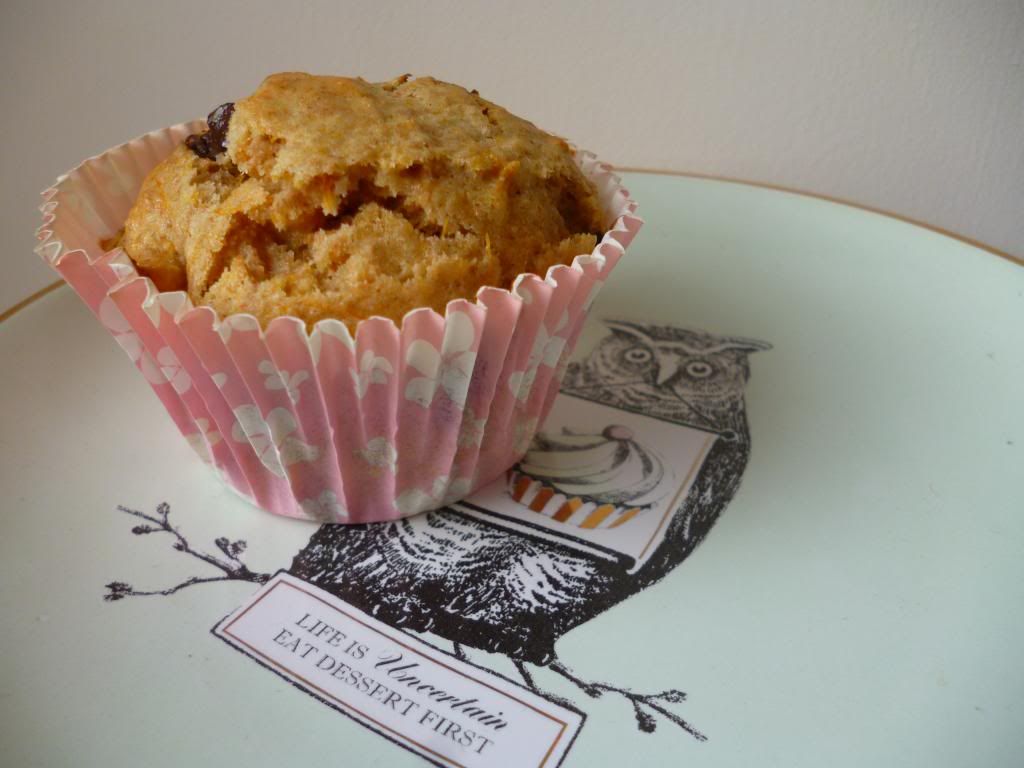 I've posted about
muffins
on this blog before, probably because they are my one of my favourite things to bake: they're quick, easy and can be made to be healthier than other cakes without being any less delicious.
Baking is one form of cooking where precision is often paramount but, provided you stick to a few basic principles, muffins are the exception, making it easy to tweak recipes and whip up a trayful of inviting goodies with whatever you have in the house.
I've also learnt recently that it's possible to make them almost entirely one-handed, e.g. with a baby in the other arm, which is very, well, handy! While the jury's out on my recent Sweet Potato Choc Spice muffins for the
Cherry Hinton Festival Craft Party
(some adored, others found them too sticky and rich) I have learned a thing or two about making moreish muffins, so here are my tips:
1. You can make them a lot healthier quite easily: try reducing the sugar in recipes - you won't even notice 50g less. Take away another 50g and replace with mashed banana and/or grated apple.
2. Substitute some of the white flour for wholemeal flour (for goodness) and/or spelt flour (for sticky moistness and low gluten).
3. Subsitute 50g (or more if you're feeling indulgent!) flour with ground almonds. Moist marzipan-like gorgeousness. Goes really well with apple/sultana muffins, or plum, or apricot. (Oh yes and for a treat you can pop in little squares of marzipan too - mmmm!)
4. Try adding: sultanas (muffins are almost always better with some fruit in them, except maybe chocolate muffins), chopped pecan nuts, chopped dates, grated carrot, mashed sweet potato, oats. All tasty and nutritious.
5. And on the health note, I find that a lot of recipes have way too much oil or butter in them. I often halve the suggested quantity (e.g. 2 instead of 4 tablespoons of oil). Who wants greasy muffins anyway?
6. Keep your dry ingredients separate from the wet ingredients until the last minute. The magic happens when you mix the two. But you can fold in fruit aftewards.
7. Don't mix the batter too much. Lorraine Pascal says, "no more than 8 turns of the spoon" - well, I reckon that's exagerating a bit, I mean, you do want it all combined... but only just. It's great if it's lumpy! This ensures they rise nicely and aren't too dense.
8. Get them in the HOT oven as quickly as possible once you've mixed wet and dry ingredients - again this is all about getting a nice, well-risen crumb.
9. So a totally basic recipe for 12 would be 300g flour (or subsitutes), 100g sugar (easily reduced), 1 teaspoon of baking powder, 1 teaspoon of bicarb of soda, 1 egg, 2 tablespoons sunflower oil, 125ml milk (you can easily subsitute the milk with fruit juice, skip the egg if you're vegan). Mix dry ingredients in one bowl, whisk wet in the other, then combine. Bake in a hot oven for approx. 20 min until risen and golden. Now play with it! (See also my recipe
here
).
Let me know if you found any of this useful!