Our Christmas tree came to us last year in a pot, and has lived in our garden for the last year, moving into a bigger pot in the course of time. "Look how it's grown!" exclaimed our 3 year-old, who could wait no longer than 1st December to put up (or bring in, in our case) and decorate the tree. He is that excited about Christmas. Actually he has not stopped talking about it since last year!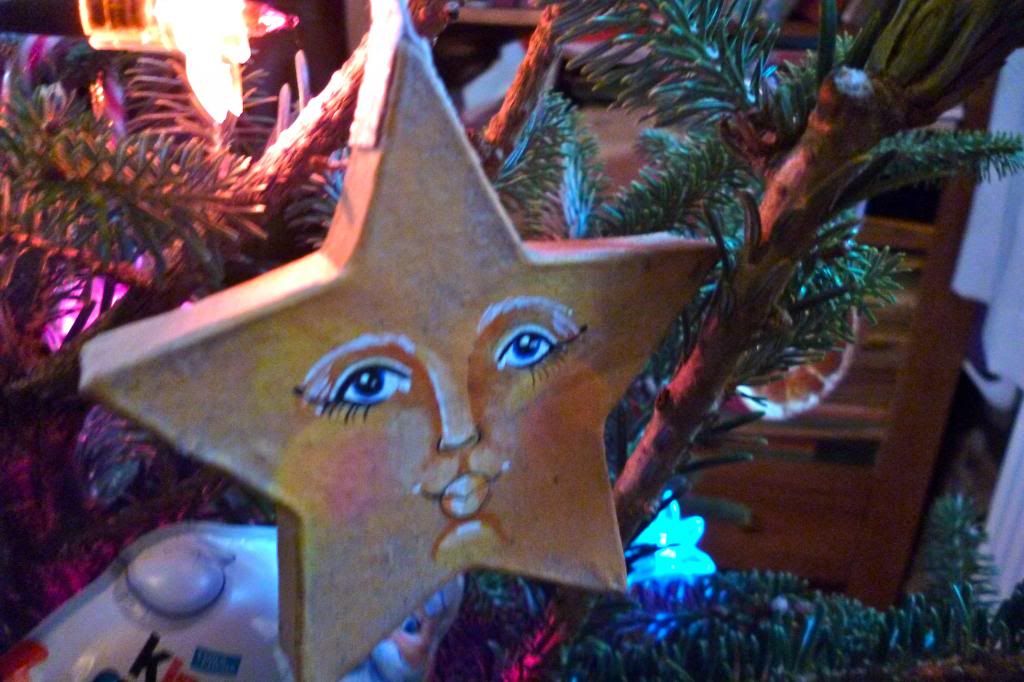 Like many people, part of the delight of having a Christmas tree (and indeed, of Christmas itself!) is getting out the boxes of decorations and pouring over all the objects with their varied provenance and memories. This year it was especially lovely to find some
Ashlie Blake decorations
, including the benevolent star, above, that she gave me last year but which didn't arrive until after the tree came down. So this is their first Christmas and I'm thrilled to have little pieces of Ashlie on our tree!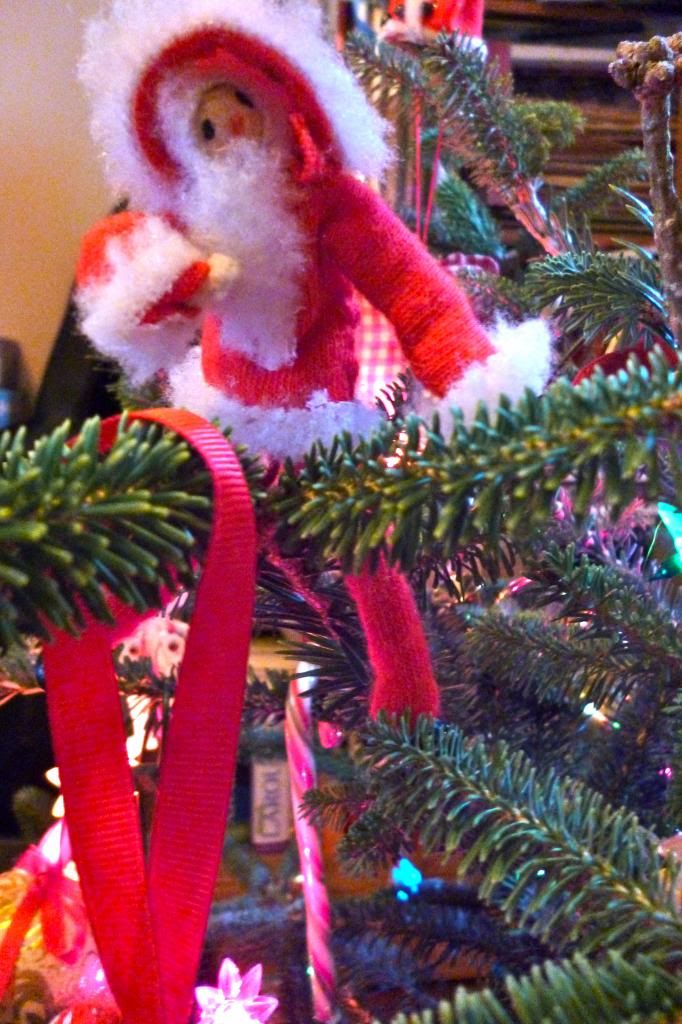 Somehow, when ornaments are hung on the tree, they bring with them an aura of the person they came from. This funny little Father Christmas was made by my mother long before I was born (she thinks 1972-5). For me that's the best kind of heirloom. And the 3 year-old adores our sweet homemade, bendy-legged Santa!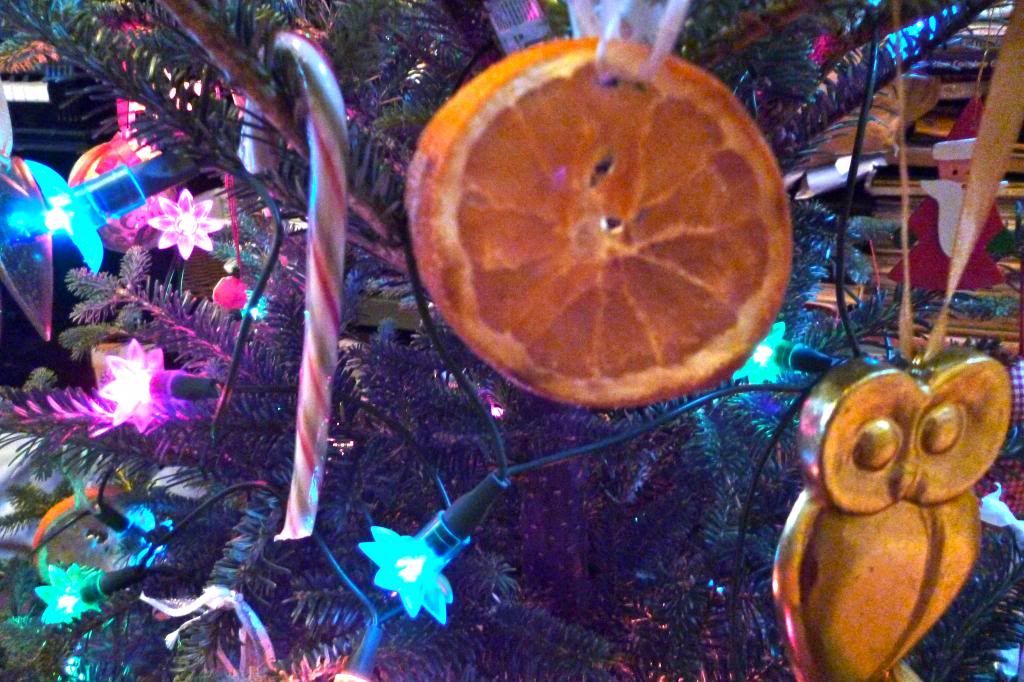 This year for the first time I made ornaments from dried orange slices. They were simple to make and I love the smell of oranges baking and drying in the oven. I think this may well become a new tradition. (Find out more about the golden owl
here
).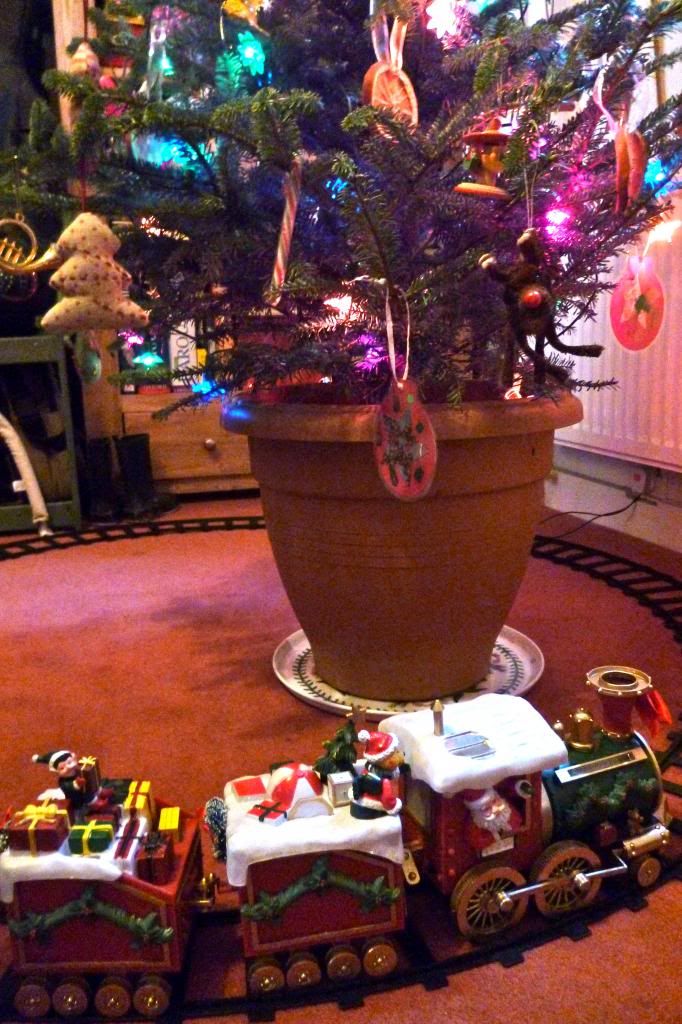 Also set to become a tradition, I think, is this mad Santa train, a gift this year from my French mother-in-law, who I think is quite as crazy about Christmas as her grandson! Of course since we also have a crawling 8 month-old who is highly motivated to get everything and anything in his mouth, the train is a bit of a pain really. But as far as over-the-top Christmas decorating goes, I actually rather like it, probably because I've seen trains round trees in so many children's books over the years, so it feels almost familiar.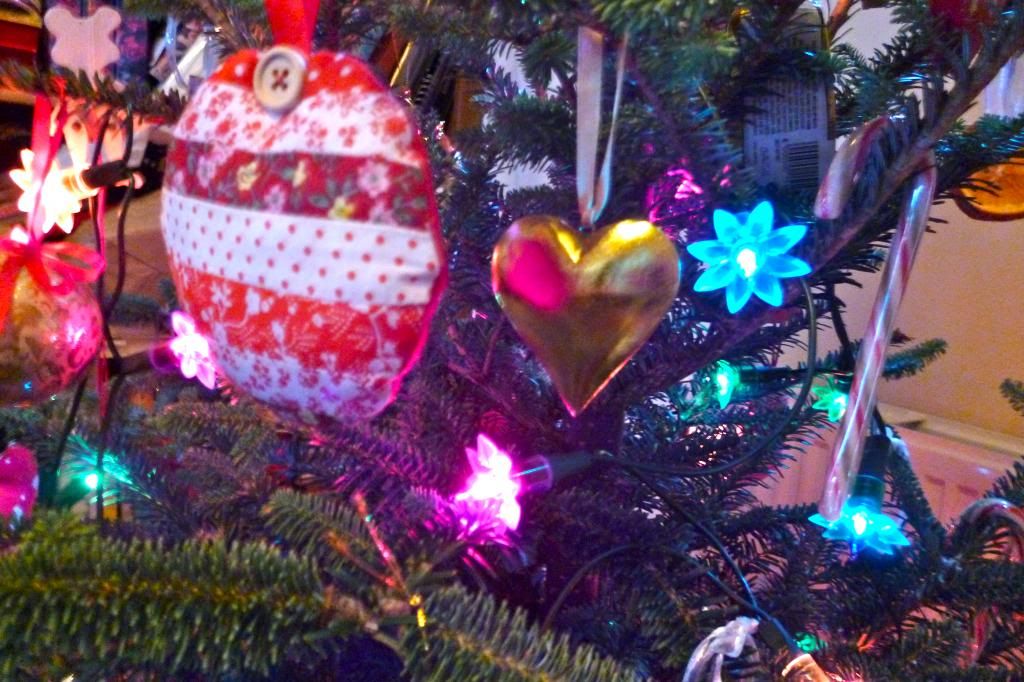 Our tree always has lots of homemade things on it (in the train photo above you can even see some collage baubles my son made last year) and I like to add something new each year. This year, I enjoyed making this patchwork ornament, from a free craft kit that came with
Love Patchwork and Quilting magazine
. I haven't often used craft kits, but this one was lovely and I'll enjoy getting this out for future trees.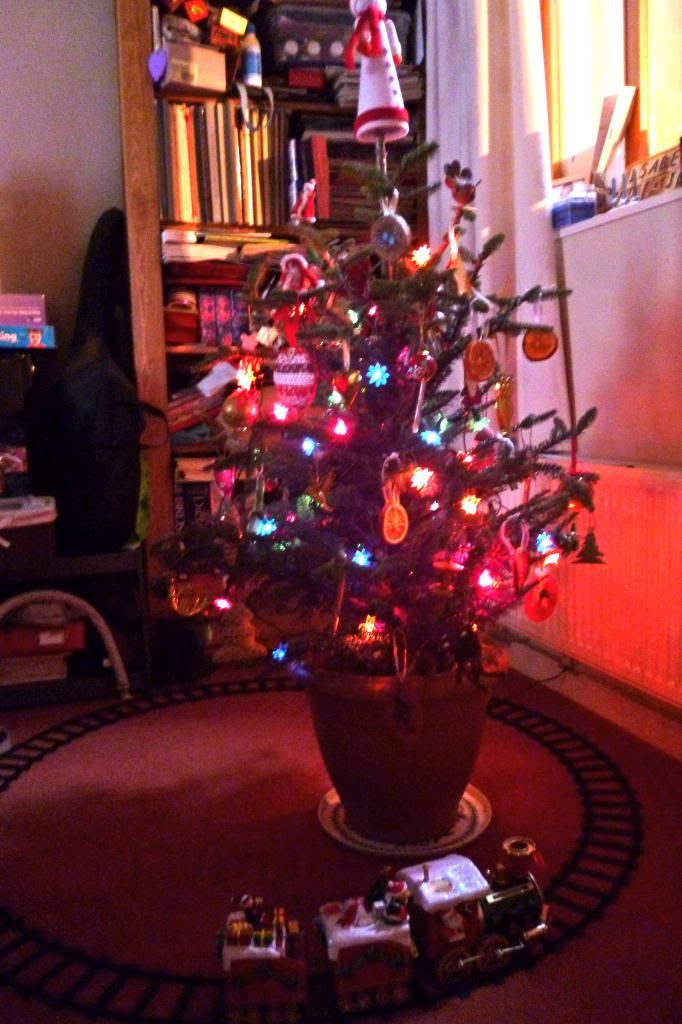 Our tree doesn't have a "theme" and we don't even own chic white fairy lights. Instead we have three sets of garish coloured ones. This year's date from my student years - they used to hang over my bed all year round. My little boy did most of the decorating, though I will admit to moving some ornaments if there were too many bunched together and also he had a tendency to put everything at the bottom of the tree! We didn't use any of our breakable glass baubles this year because of the crawler - pretty much everything is safe to grab and drool over, though I have mostly managed to prevent this happening so far.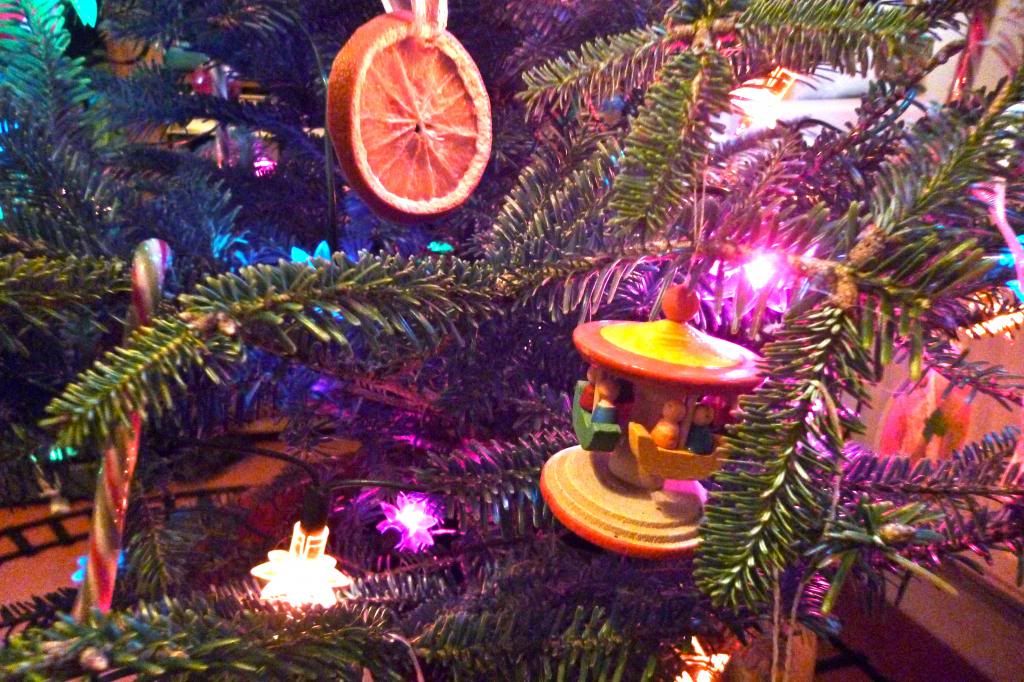 For me, the tree should be cheery: part of the point of Christmas for us is that pagan thing of having something bright and cheerful in the cold Winter months. It's also about family and memories. I was asking my mum about the homemade Father Christmas and she reminded me that one year she made a snow scene with heaps of cotton wool and all the Santas (for there were many of them) on skis and sledges having fun and falling over in the snow. She thought I might have forgotten it, but the memory is perfecly vivid, just as the best Christmas memories always are.