Spiced apple chutney is a tradition in our house. Actually it dates back well before we had a house. I discovered Nigella Lawson's recipe in a magazine over a decade ago and first made it on a tiny electric hob - almost a camping stove - in my student kitchen.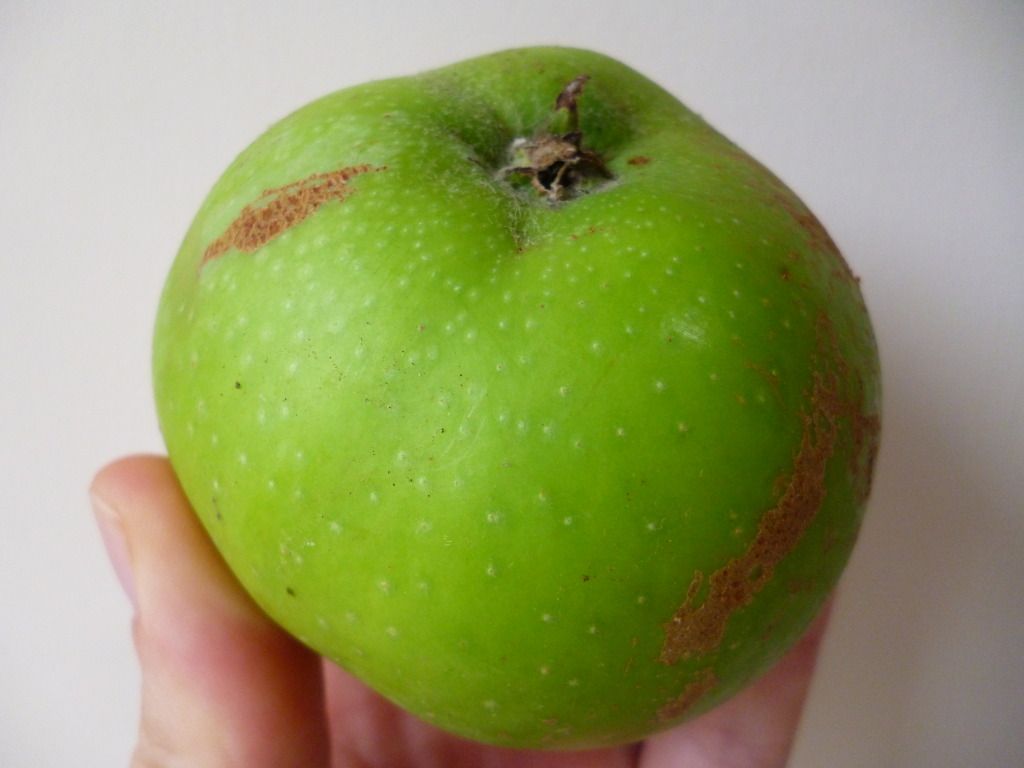 The beauty of chutney is it can be made anywhere, out of pretty much anything, and rarely goes wrong. It's also great for using apples from the garden that have bruises or scars or other imperfections. Cut them out and make the most of the delicious, juicy, homegrown remains.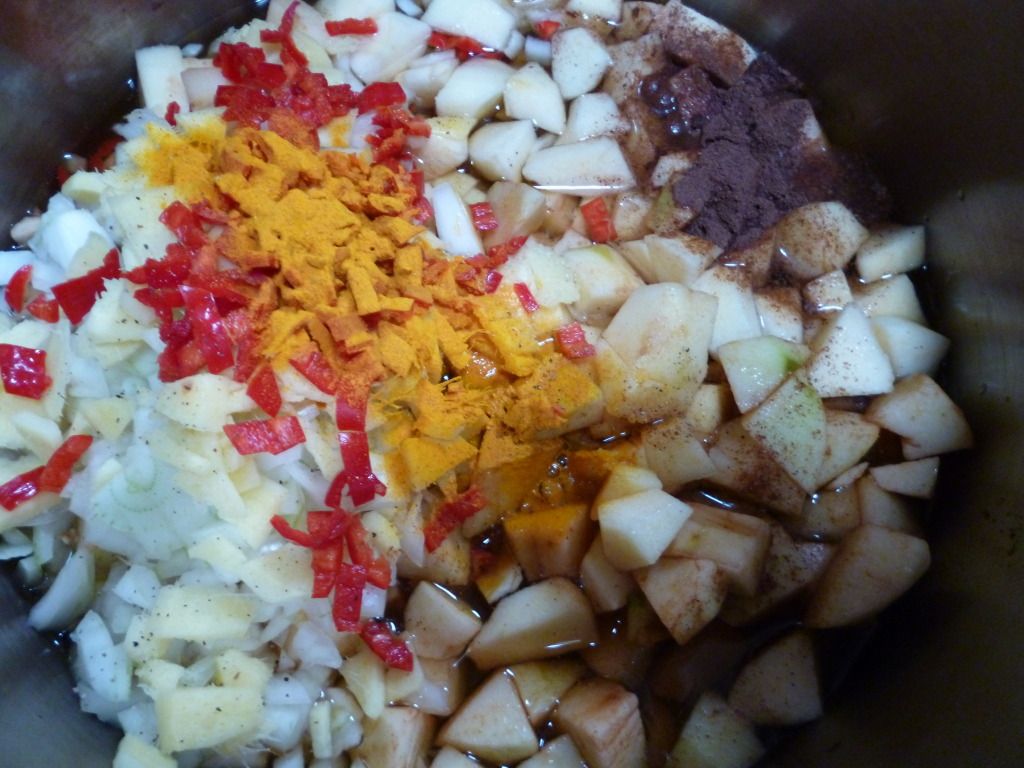 Since I discovered this recipe, a sandwich seems dull without it, and cheese feels like it's missing something without that tangy, sweet and fragrant taste to go with it. What follows is similar to but not quite the same as the original recipe, which can be found in Nigella Lawson's excellent book, How to Be a Domestic Goddess.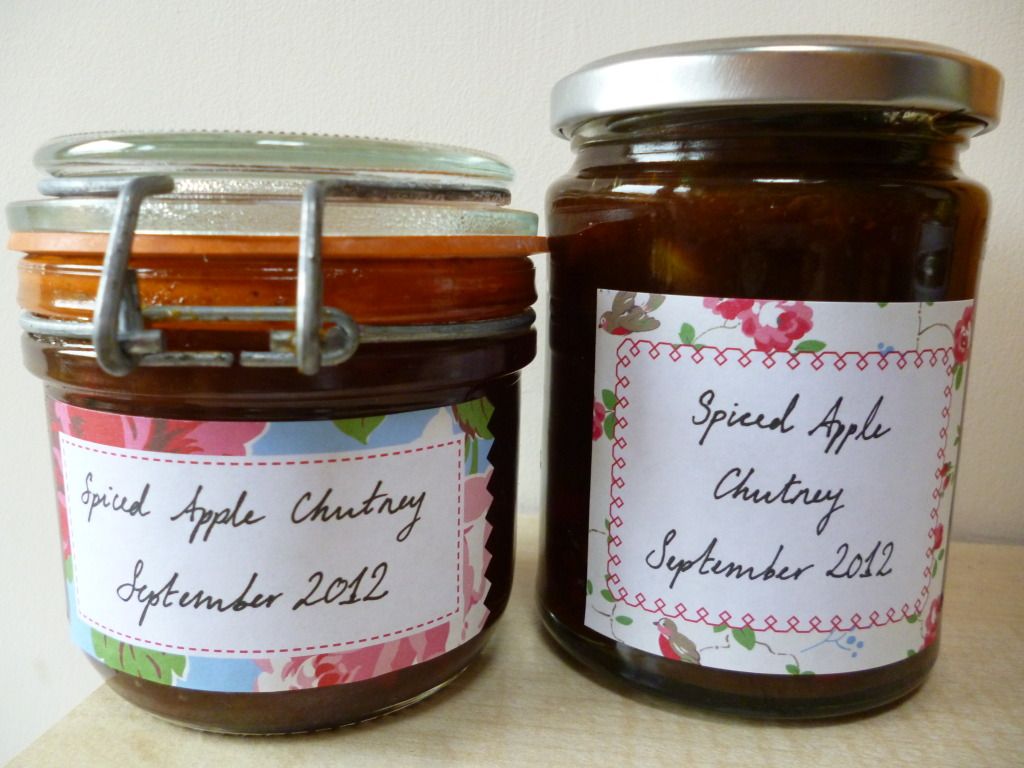 Ingredients
500g apples (I like to use a mixture of cooking apples, such as Bramleys, and any sweet apples: the eating apples will go mushy, the cooking ones will hold their shape)
1 medium onion
3 red chillies (I prefer to use milder chillies but more of them - they create gorgeous little red dots in the final chutney)
250g demerara sugar (you can use any sugars but the pale golden colour and soft flavour of demerara does work very well; I often use some dark muscovado sugar for flavour, though this makes the chutney darker and less golden-pretty)
1 teaspoon ground allspice
1 teaspoon ground cloves
1/2 teaspoon sea salt
few grinds of fresh black pepper
1 heaped tablespoon of very thinly sliced fresh ginger
1 teaspoon turmeric
350ml cider vinegar
4 x 250ml jars or equivalent
How to
Peel and roughly chop the apples, and finely chop the onion. Seed the chillies and chop into thin slices, or tiny squares if you prefer.
Put all the ingredients except the sugar in a large pan and bring to the boil. Reduce the heat and add the sugar, stirring slowly until it dissolves. Then cover the pan and simmer on a low heat for 30-40 minutes until the mixture has thickened.
The precise thickness depends on your taste. I like a nice, thick gooey chutney, but you'll have less of it! It doesn't set like jam does, and that's fine (it's one of the things that makes it so easy to make).
Spoon into cleaned, warm, sterilised jars (I put them in a low oven to dry out after washing them) and leave for a few moments before adding the lids - to allow any air bubbles to rise. Make sure that the chutney doesn't quite touch the lids as many jar lids are quite susceptible to vinegar, but don't leave the least possible gap to avoid air in the jar. Label and store.
If you can bear it, wait a month before opening: I promise your patience will be rewarded with a smoother, richer flavour!