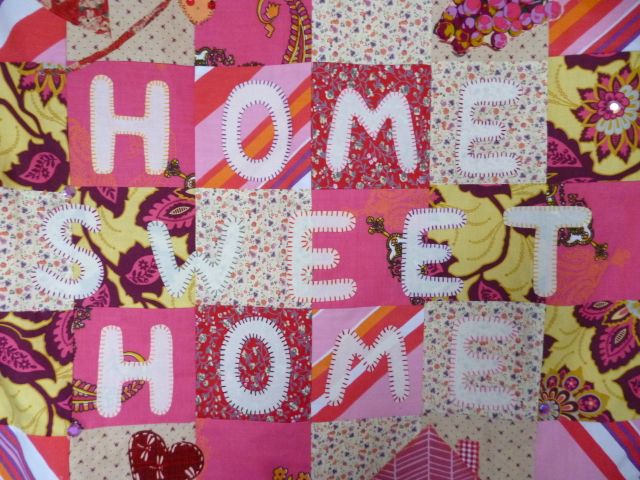 I've been just
longing
to share photos of this! I made it last month for my mum's birthday present and although (as somehow
always
seems to happen) it was a real rush to finish it on time, it might just be the creation I'm most proud of to date!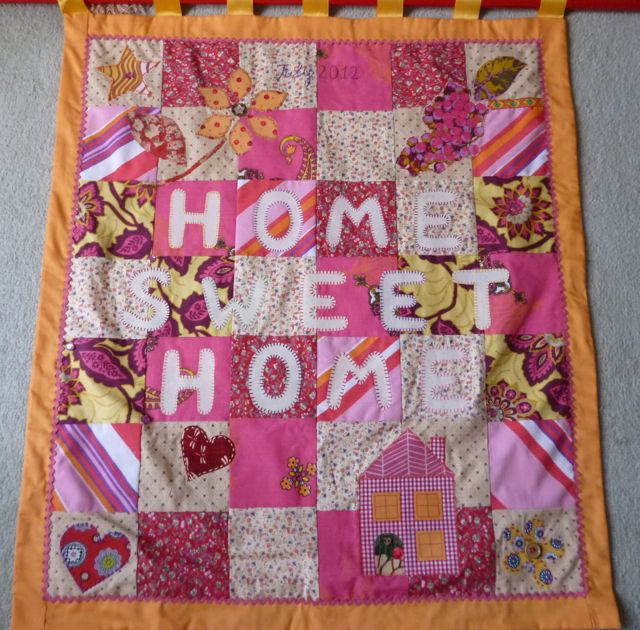 My mum requested a wall hanging, inspired by something her sister had brought back from South Africa, but with warm colours. With the basic idea of appliqué motifs on a patchwork base, I picked fabrics that reminded me of her and sketched out a pattern in my notebook.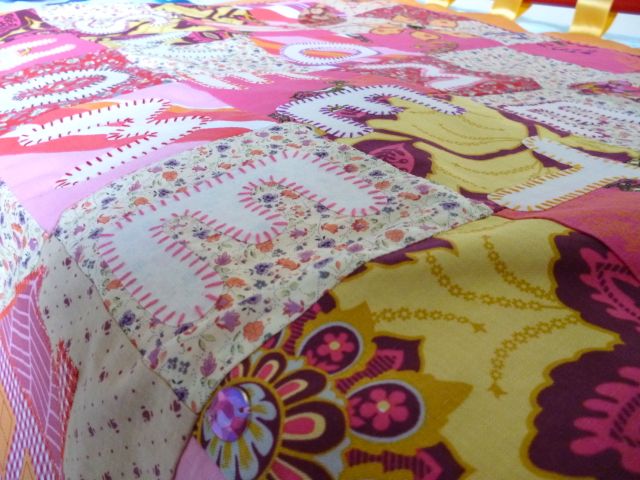 About 1/2 the fabrics I used were vintage, including some from the
stash my mother gave me
. The border and backing were made from a huge piece of remnant fabric my mother found years ago (the price tag 70p was still attached!)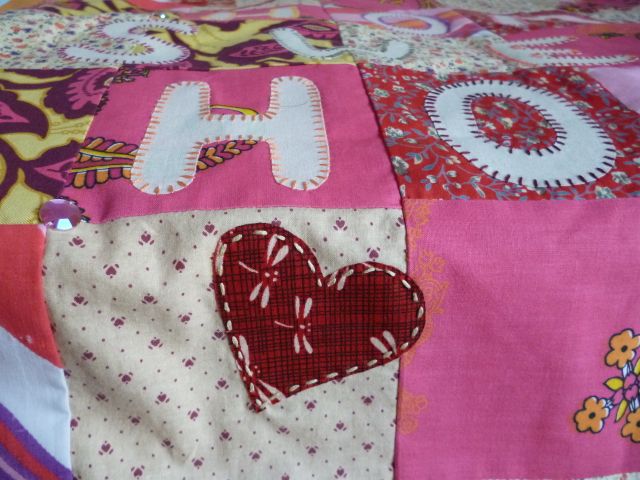 I decorated it with appliqué hearts and flowers, embroidery, trims, buttons and beads. I decided that with so much colour in the background the letters should be neutral, but I had problems with the machine appliqué stitch for the tight letter shapes, and so I painstakingly
hand-sewed
overstitch with different coloured embroidery threads instead.
In keeping with the "home sweet home" motif, the project became something almost like a sampler for me, in that I used a whole range of different sewing techniques and stitches. This was very meaningful for me in a gift for my mother, as she was the one who taught me how to sew.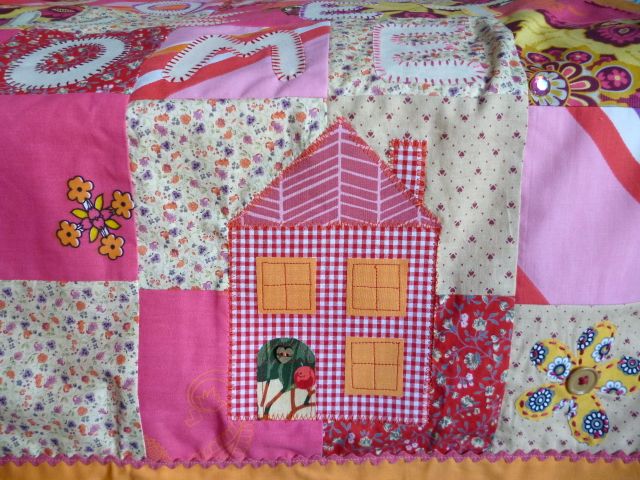 I especially love the little appliqué home I made, with fabric that looks like tiles for the roof, and gingham "bricks" for the walls, while the windows glow with the same orange fabric as the border to show that the homefires are burning.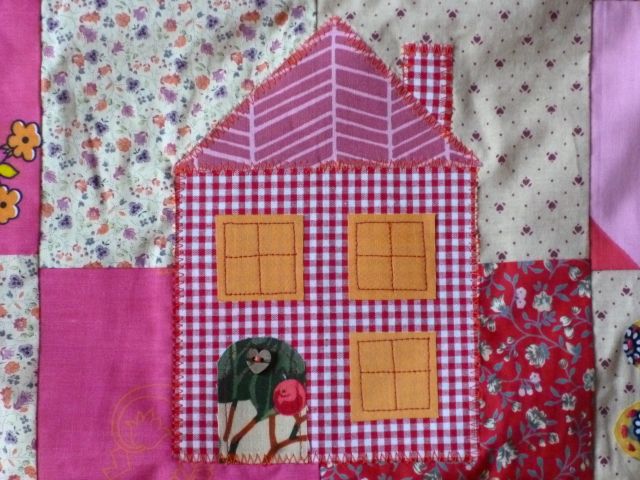 There is even a little heart-shaped button decorating the door. As with all the appliqué, I used
heat 'n' bond
iron-on adhesive to fix the pieces, then stitched to secure using a variety of different stitches. I was pleased to see that zig-zag stitch worked nicely on an array of shapes, even though I hadn't managed the proper machine appliqué stitch for the letters.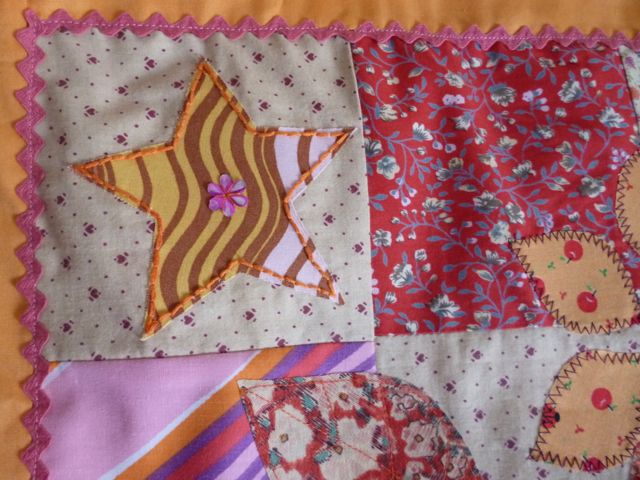 A touch I'm delighted with is the addition of the vintage pink rick-rack I wrote about in
this 'think pink' post
all around the border.
I also used pink thread for the top spool and orange for the bottom so it matched both rick-rack and backing fabric. And I was pleased to use one of my little 'handmade with love' tags - free with Mollie Makes magazine (and stitched on quite hastily at the end!)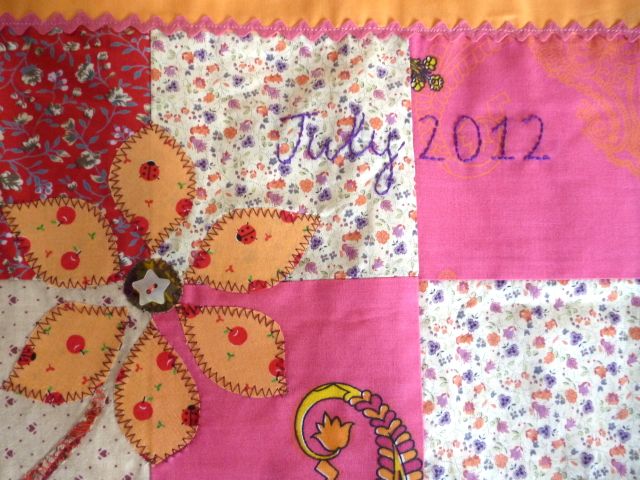 Using a simple backstitch, I embroidered the month and year at the top so that it commemorates my mum's birthday this year. I had planned to do more embroidery and learn some new embroidery stitches at the same time, but I will keep that idea for another project.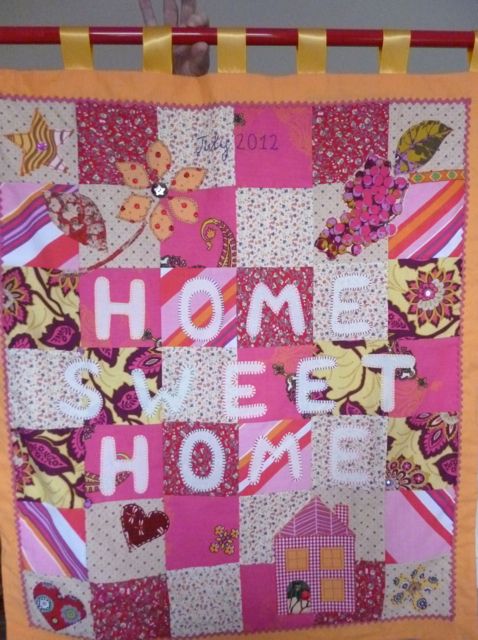 Finally here's my mum holding it up. It was going to hang in her bedroom but when she put it temporarily at the top of the stairs she fell in love with having it there and felt it would be nice to share it with more people. I'm happy that she likes it. Now my husband wants me to make one for our home!