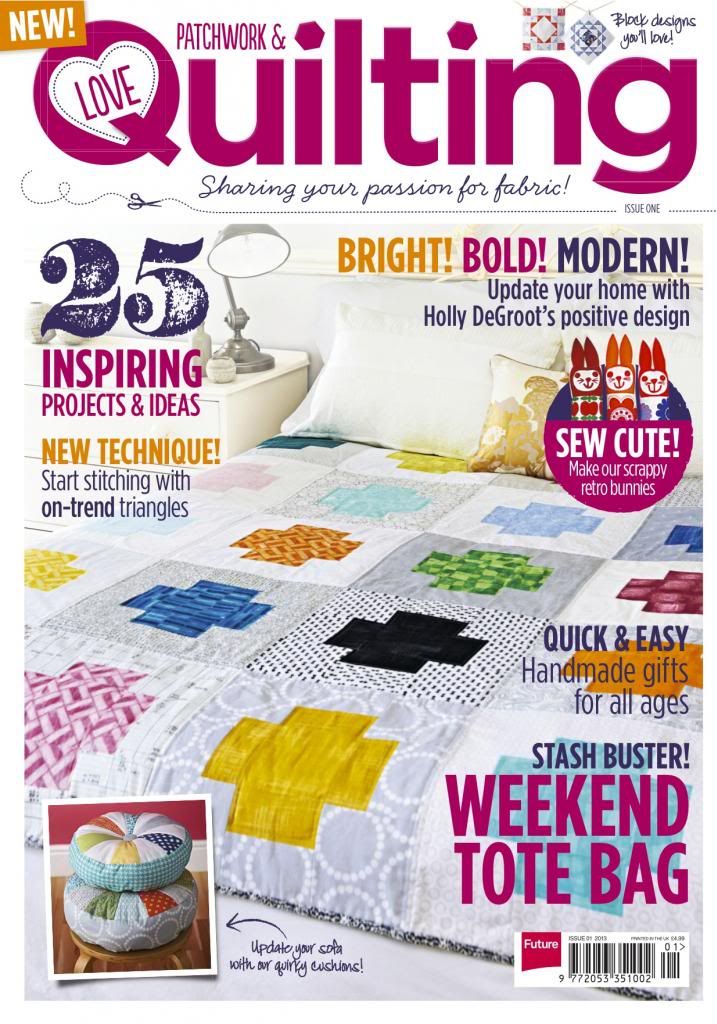 Has anyone else noticed there have been quite a lot of new craft magazines over the past few years? It might seem surprising in our digital age, but clearly there are a lot of crafty folk out there who, like me, enjoy curling up with a real, page-flipping mag (and craft magazines are full of great paper for art and collage afterwards too!) I was excited about
this new patchwork and quilting magazine
and immediately signed up for the trial subscription. And guess what? I think I have a new favourite!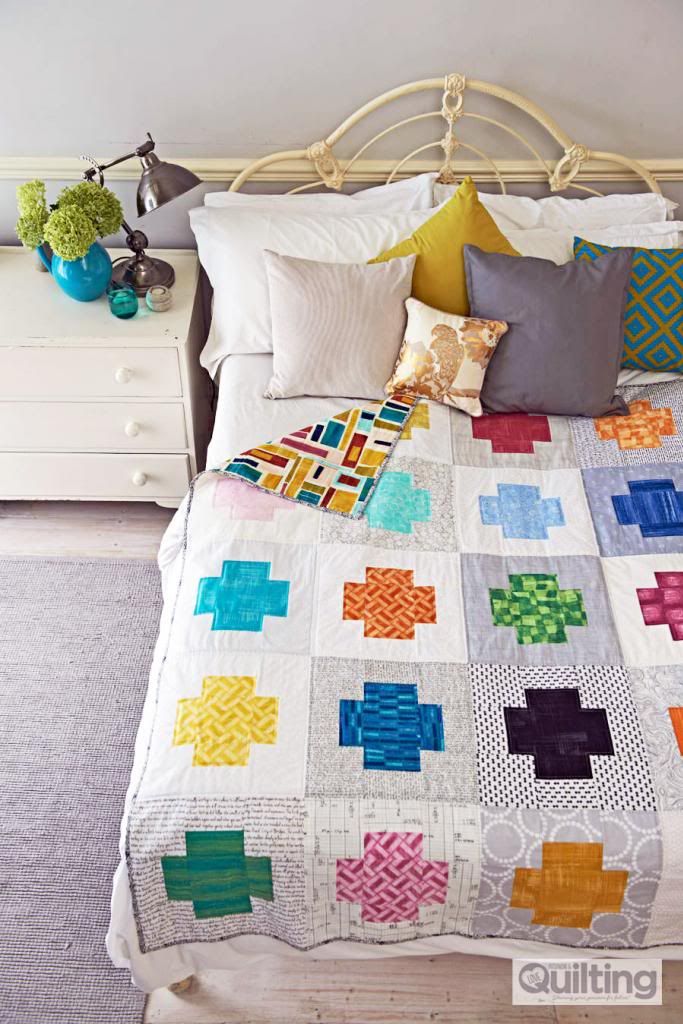 Love Patchwork and Quilting
is full of projects that just make you want to run to the sewing machine (or fabric shop - but I'll come to that later). I love their emphasis on 'modern' quilting. Not that I don't also enjoy traditional quilts but projects like the plus-sign quilt, pictured above, have an appealing freshness and a simplicity that means they can be adapted to pretty much any taste.
Although it's a specialist magazine of sorts, they have cleverly included projects to draw in pretty much anyone who has basic sewing skills, like these fun scrappy patchwork laces (almost tempting me to convert from zips and buckles - maybe once the baby is a bit older, haha!) There is great variety in the projects (totes, wall-hangins and plushies as well as quilts) and all are clearly explained in easy-to-follow illustrated steps.
The nature of patchwork (i.e. things made of small pieces) means that - yay! - there are lots of full size templates in the mag too. This is heaven for me as I don't have easy access to photocopiers and printers at the moment. For many projects, like the stunning triangle quilt shown above, I can just cut and go - brilliant. There are also lots of great tips and pages of information about quilting, just what I need to take my quilting to the next level. Equally if you've never made a quilt before, I'd definitely recommend this first edition of Love Patchwork and Quilting, as it makes a really good introduction to the art.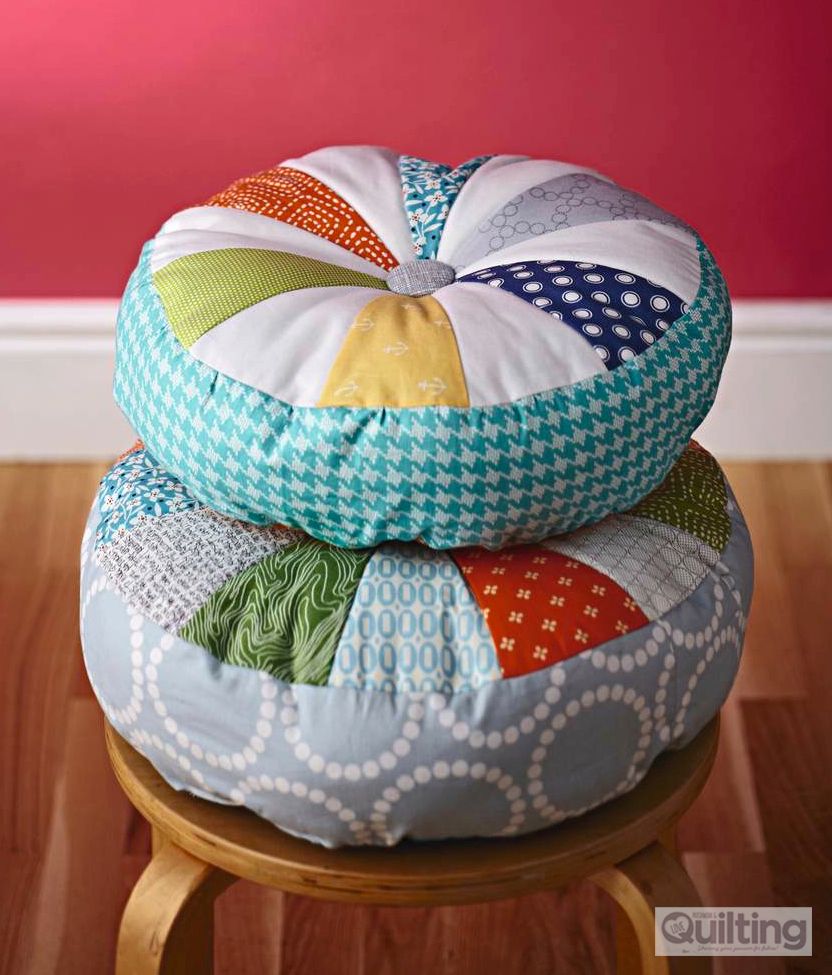 These fabulous sprocket pillows by Allison Harris caught my eye straight away. I've been wanting to make something for my brother who needs cheering up, and these seemed the perfect quick idea. I'll be writing more about the cushion I made in a separate post. Here's a little sneak preview...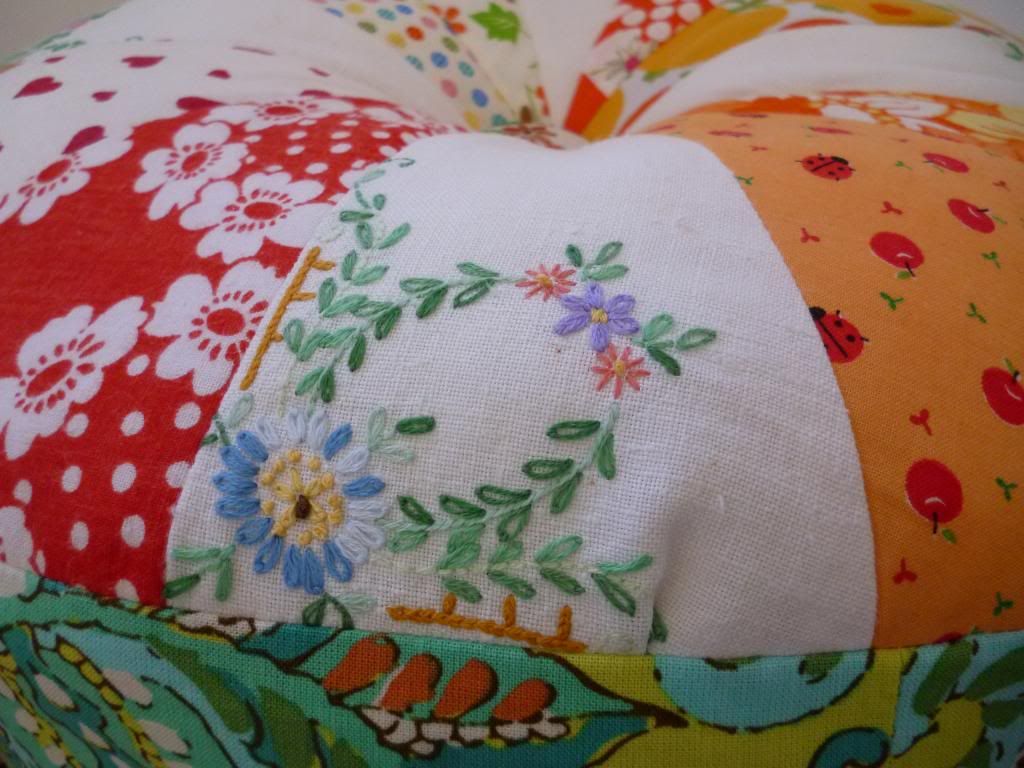 Finally, while the merit of free gifts with craft magazines is debatable (see
this post by Miss Beatrix
for some interesting thoughts on the matter) I am pleasantly impressed by the first Christmas-themed gift. It's something I'd genuinely like to make and also provides a good idea for making similar baubles using strips of fabric or ribbon, so in that sense it's worth more than the sum of its parts.
If Issue 1 is anything to go by, Love Patchwork & Quilting has found a loyal subscriber in me. However I'd like to end this review on a slightly different note. Perhaps inevitably for a magazine of this genre, there is a strong strand of fabric fetishism running throughout. Don't get me wrong, their choices are gorgeous and I'm a serious fabric addict. But I try to be mindful of the environmental cost of new fabric. I'll be writing more about this in another post, but just to say that I'd like to see more use of
vintage and repurposed fabrics
in the magazine in future. That for me would be the cherry on the cake.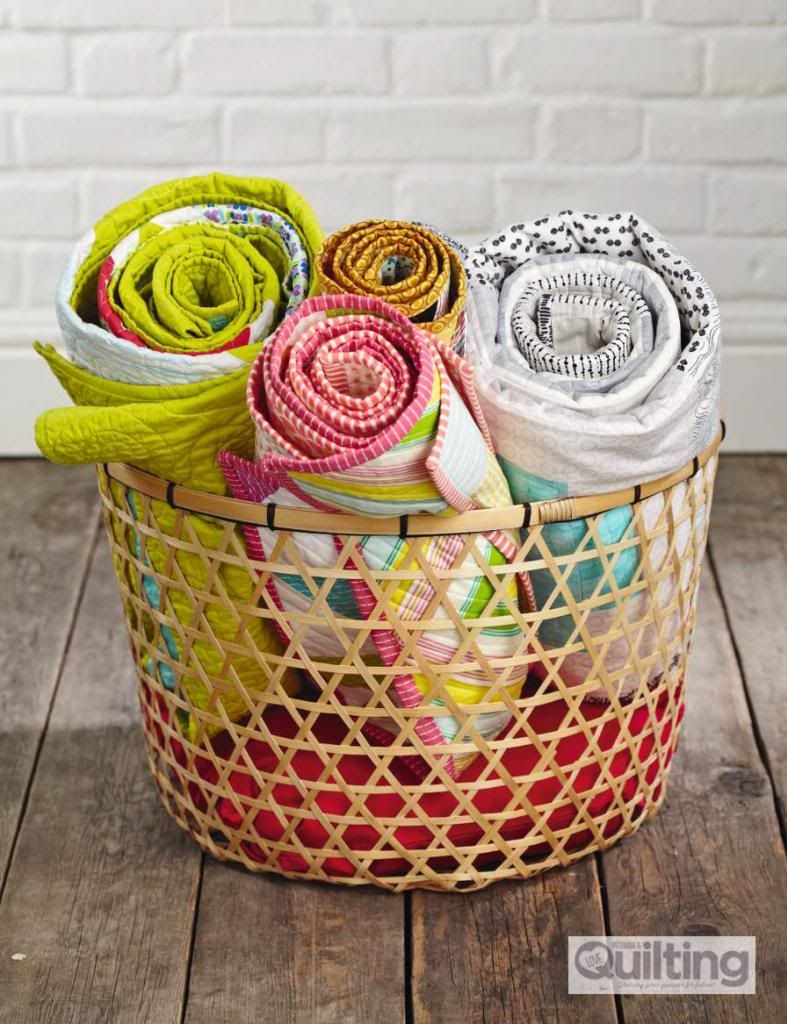 All images from the magazine in this post were kindly provided by Love Patchwork and Quilting. This review represents my personal opinion.